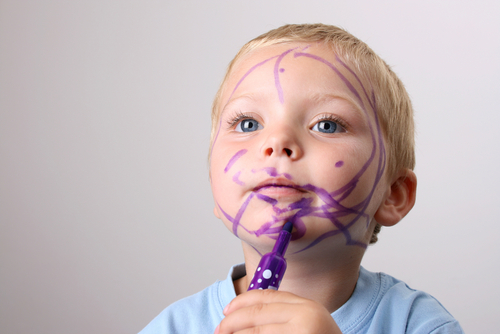 We love them unconditionally, even when they are smearing your best red lipstick all over the bathroom mirror. But, kids will be kids and they can drive us crazy:
Bathroom break
Just as you close the bathroom door you get a little knock and a 'what are you doing in there?' Seriously all you wanted was one minute of peace and quiet.
Interrupted coffee time
The kids are happily playing, so you decide to make yourself a coffee and enjoy this rare quiet time. Just as you sit down all hell breaks loose as your kids, who were peacefully playing together, suddenly decide they hate each other. Perfect timing.
Clothes
You are going out in ten minutes and you've just put a clean top on your daughter. But while you quickly make sure the house is locked up, your daughter decides to paint. Without an apron on.
Clean up
Seriously, domestic chores are never, ever ending. You sweep up the spilt corn flakes in the kitchen only to find a split drink in the living room.
Laundry
You have just put the washing machine on when you suddenly see your little one out the corner of your eye wipe their dirty chocolate hands all over their top. You really thought you had finally, finally gotten to the bottom of the wash basket.
The shoes
What is it about little kids who come home from school and flick their shoes off in the middle of the floor with a disregard for the person who will trip over them – most likely you.
The mess in the car
The car is never clean no matter how much you may try to keep on top of it. Every day you pick up sweet packets, crumbs and tissues from the seats – you don't even know where they got the biscuits from.
The noise
The constant yelling and screaming and that's not even when they are fighting. The noise that comes out of your child's mouth frightens you sometimes.
The constant 'MUMMY'
You are seriously starting to consider changing your name - the constant 'mummy, mummy, mummy' being yelled at you is simply driving you crazy.
The cooking
Breakfast, lunch and dinner not to mention the million snacks in between - you might as well set up camp in the kitchen. And the fact that nobody is ever happy with what you serve, that you have resorted to making five different dinners each night just for a little bit of peace and quiet.
Yes they drive us crazy, but we simply couldn't live without them.