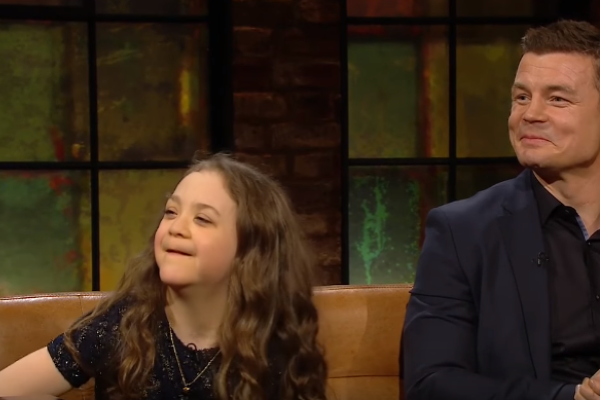 Picture via YouTube
In 2011, that snap of Brian O'Driscoll showing off the European Cup to little Michaela Morley in hospital melted hearts everywhere.
Now the two have reunited, appearing on The Late Late Show last night to promote the carrying donor cards.
Michaela was on dialysis when she was younger, having to travel from Mayo to Dublin three times a week because of her kidney condition.
Now, though, the 13-year-old no longer has to make the multiple weekly journeys thanks to a life-changing kidney transplant.
"It just made my life a lot better," the teenager told Ryan Tubridy of transplant.
Michaela chatted to the TV host on a number of subjects - her best friend, her favourite activities, and, of course, the fact that everyone should carry a donor card with them.
She put the importance of carrying a donor card in simple yet impactful terms: "I means you're doing a good thing for a person like me."
It is so heartening to see the 13-year-old using her voice to help others in the same difficult position she was.
Michaela teamed up with Brian recently to launch Temple Street Children's Hospital's renal and neurology outpatients unit, as well.
"She can't but bring a smile to your face when you see her," the rugby legend told the Irish Independent of the effervescent teen.
We definitely agree! What an uplifting story, and an important message.
You can get a donor card by collecting one from your local pharmacy, signing the back of your driver's license to indicate you're a donor, or contacting Irish Kidney Association(IKA) at donor@ika.ie.
It is also recommended that you let those closest to you know if you decide to become an organ donor.