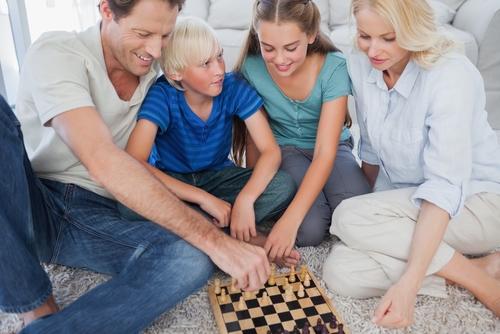 It's time to put the phone away, turn off the TV, switch off the computer and introduce your kids to the wonderful world of board games.
Enjoy some quality family time together and show your child just how much fun they can have without electronics and technology.
Snakes and Ladders
This game is pretty quick making it great for playing with kids who have a short attention span. It may be a fast one, but you will no doubt end up playing this game at least five times in one sitting.
Monopoly
Monopoly is a great game and encourages a little friendly family competition. There are plenty of junior versions available, made just for kids, but if you have the original version hidden under your bed or stored on a shelf, take it out.
KerPlunk
This is a nerve-racking game of patience and skill as you try to remove the sticks without letting the marbles fall. This is a pretty easy game to set up so you can let the kids get it ready while you pepare some munchies. By the end of the night, the whole family will be rolling around in fits of laughter.
Scrabble
This is not just for fun. The game will help your child improve their spelling without them knowing it. Have a dictionary to hand because, no doubt, someone will try to make up a few of their own words.
The Game of Life
This is a game of chance and luck, much like real life. What profession will your child choose? Will they go choose money over family and will they take risks and chances? While this game if not actually real life it is a great way to spend a rainy afternoon as a family.
Twister
This classic board game is a laugh-a-minute. Pop on some music and take turns spinning the dial. Have a camera ready for when daddy needs to reach his left hand behind his right foot to find the green circle.
Chess
Chess is a game of skill and strategy. Spend the afternoon teaching your child a game that your parents taught you when you were young. Teaching it to your little one may be tricky but the one-on-one with your youngster will be worth it.
Pictionary
A room full of amateur artists and a limited amount of time to draw means this game will leave everyone in fits of giggles.