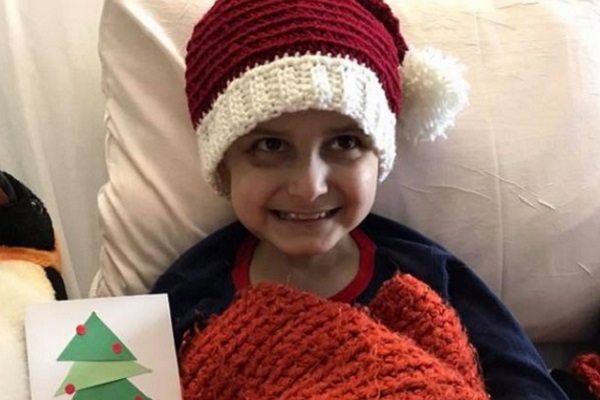 Christmas is nine-year-old Jacob's favourite time of year. The young boy has been battling cancer for the past four years. Sadly, doctors have informed the young boy that he may not live to see this Christmas.
With that information, the nine-year-old has made one final Christmas wish: he has asked the public to help him celebrate the holiday season earlier this year by posting handmade Christmas cards to him.
Jacob and his family have been overwhelmed by the number of people participating in the campaign, receiving cards from all over the world, from Norway to Australia.
His mum, Michelle Thompson Simard, thanked people for their support, "The response for cards has been great!! We're so excited about this."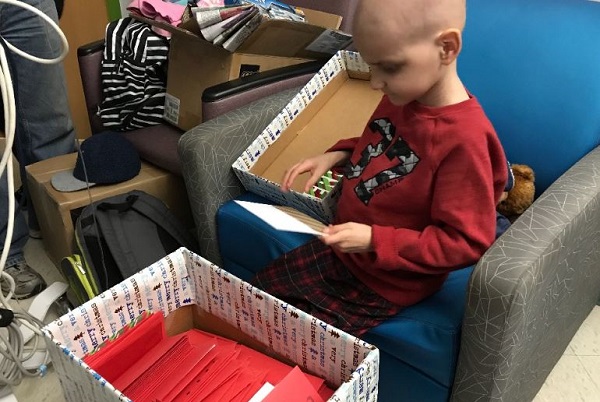 The family has been posting photos of Jacob with all the different festive cards he has received.
As well as posting cards to the youngster, people have also been sharing videos of themselves singing Christmas songs to spread the festive cheer.
Celebrities have even got involved in the inspiring campaign. Pitch Perfect star Anna Kendrick tweeted about Jacob's story, writing, "I was born in this hospital. I'm sending a card your way Jacob, you handsome devil."
Parks and Recreation star Rob Lowe joined in on the campaign by sharing a video with the cast of medical drama series Code Black. The ensemble gathered together on the set to film a video for Jacob.
The family recently celebrated Thanksgiving together. Jacob was joined by his grandparents and his extended family to enjoy the holiday.
The family posted an update to the GoFundMe page, "We were lucky enough today to celebrate a family Thanksgiving, naturally because it comes before Christmas. We also have continued to open Christmas cards and gifts."
They expressed their gratitude for everyone who has helped Jacob celebrate his special Christmas so far.
Merry Christmas, Jacob! https://t.co/uSASXEX9QW Please send cards:
Jacob Thompson
Maine Medical Center
22 Bramhall St
Portland, ME 04102 pic.twitter.com/DhLWxVup2S

— Michael Seitzman (@michaelseitzman) November 3, 2017
They posted numerous photos from their day, including one of Jacob with his grandparents and another of the young boy reading through his special cards.
On October 11, 2017, Jacob was admitted to the Barbara Bush Children's Hospital for the last time. At the age of five, he was diagnosed with neuroblastoma, which is a malignant cancer of the nerve cells. The disease has spread to his sinuses, his skull, and his bones.
If you want to help Jacob celebrate Christmas early, you can send a card to:
Jacob Thompson
C/O Maine Medical Center
22 Bramhall St
Portland, ME 04102