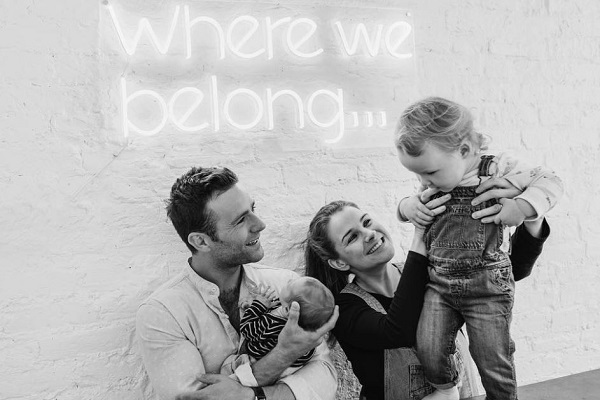 There are so many family traditions that parents want to continue when they have children of their own, from making Nanny's famous Irish stew on a Sunday to going on an annual camping trip at the end of the summer.
Keeping traditions alive creates a sense of nostalgia for parents. It reminds them of their childhood days, which can have a positive impact on your mental health.
In the past, experts have found that nostalgia can lower your stress levels and boost your mood. This is because memories from your childhood days are often associated with happy and care-free emotions.
Harry and Izzy Judd have continued a very sweet family tradition that many of us will remember from our earlier years.
The McFly drummer and his wife shared that they will measure their kid's heights and record them on a wall in their kitchen.
It's safe to say many of us had a wall in our house, whether that was in the living room or the kitchen, that was full of pencil marks. It recorded our heights and our sibling's heights too. It caused many tiffs when our sister grew an inch more than we did one summer. It also symbolised how quickly we grow up.
Izzy posted an adorable photo of her husband Harry and their daughter Lola. The mum wrote, "Growing up we had a wall in our kitchen that my dad would measure our heights on, it was always a bit of an occasion that we all looked forward to."
However, when her parents decided to re-decorate the house the wall was lost along with all the memories Izzy associated with it.
She shared, "When my parents did some renovations we lost the wall and I remember feeling really sad!"
The mum was delighted to find a ruler height chart. The parents can record Lola and Kit's heights without having to worry about damaging the walls or losing the records if they ever move to a new house.
"We can treasure our kitchen wall wherever we move to," said the author.
Her husband will take on the role of measuring the little ones, "So now it's @harryjudd turn to measure the little ones, a precious keepsake for us all."
Fans of Izzy and Harry loved the idea. One wrote, "Beautiful... such a marker of growing up."
Another woman loved the invention, "This is so lovely, made me think of the days we stood being measured on the door frame at our house."
What a sweet and sentimental idea! We might have to add one to our Christmas list.