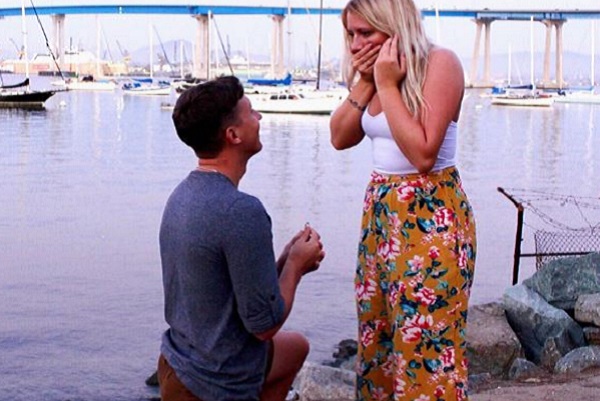 When her relationship ended, Madison O'Neill was left without a date for a wedding, "I realised I was dateless and I didn't really want to go alone."
She needed a plus one who would also act as her own personal photographer and her dance partner because we all understand the importance of taking a photo of your snazzy wedding outfit.
She was determined to find someone to bring to the wedding, so she took to Twitter and asked her followers if anyone fancied attending the special event with her.
Madison O'Neill tweeted, ""So hmu if you wanna be my date to a wedding tomorrow," back in the July of 2015. She spoke to Buzzfeed about her tweet, "I figured if anyone responded it would be a close friend that would come with me just for fun."
Much to her surprise, Charlie spotted her tweet and responded to her. The pair attended the same high school but barely knew each other.
However, Charlie admitted that he always had a crush on Madison. Madison explained, "He never had the courage to talk to me, but he saw that tweet as an opportunity and thought, 'Hey why not?"
crazy how things work out pic.twitter.com/G0bhmLL8Z5

— Madison O'Neill (@MaddieJo_13) October 3, 2017
She revealed that she always thought Charlie, who was a year ahead of her in school, was obnoxious, but she felt like there was no harm in giving him a chance.
She was nervous about agreeing to his kind gesture, but she said, "I figured that having one awkward date wouldn't be the end of the world."
Madison shared the event details with Charlie, despite her nerves. She was worried they'd have nothing to talk about, but the pair hit it off.
Despite her doubts, the pair got along like a house on fire. Madison didn't think they'd be compatible, but she couldn't have been more wrong.
After dating for two years, Charlie popped the question to his stunned girlfriend. She shared their love story on her Twitter account, which quickly went viral.
The tweet currently has over 486,000 likes and 99,000 retweets.
The newly engaged couple say the online attention has made this milestone even more surreal.
Charlie is currently serving in the U.S Navy, but Madison said she isn't worried about being in a long-distance relationship.
She posted a sweet photo with her husband-to-be on her Instagram account, she wrote, "Yesterday my best friend left for 9 months. I'll be right here waiting for you when you come home so you better get ready for some serious wedding planning."
Charles and Madison went from high school acquaintances to soulmates, we cannot wait for this couple to say 'I do'.