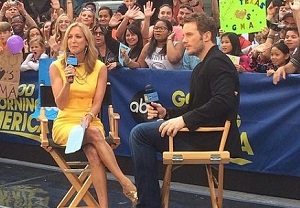 He may only be two years old, but already Jack Pratt, the son of actors Chris Pratt and Anna Faris is apparently wise beyond his years.
Guardians of the Galaxy star Chris opened up his son's "profound" wisdom and impeccable manners during his latest appearance on The Ellen Show, and couldn't help but gush as he told host Ellen DeGeneres about how advanced his little guy is.
When asked if he is patient with Jack, the 35-year-old revealed that it is a task not to be, due to his "remarkable" personality.
Referring to Jack as his "therapist", Chris went on to share an adorably hilarious anecdote from the family's recent festive celebrations.
Check it out in the video below.