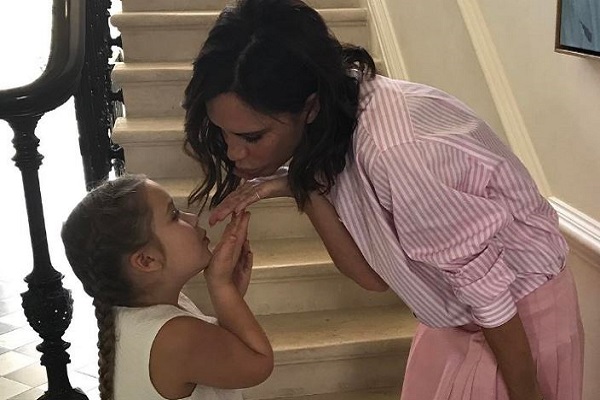 If you look around your local supermarket, you'll notice tins of Roses have started to pile up on the shelves. If you wander around the city, you'll see the Christmas lights hanging above your heads, ready to be switched on. If you pop by the local butchers, you'll see a sign advertising their turkey and ham offers.
Christmas is slowly creeping in and we must admit that we are so ready to embrace the most wonderful time of the year. It looks like we aren't alone as Victoria Beckham has shared a video of her daughter Harper singing along to one of the best Christmas songs of all time- All I Want For Christmas Is You by Mariah Carey.
The former pop star posted the sweet video on her Instagram account. She shared the touching moment with her 17.5 million followers.
The mum-of-four wrote, "4th November and Harper is getting into the Christmas spirit!! kisses mummy and Harper!"
The video has shown us that Harper is one sassy six-year-old. In the video, Harper merrily sings along to the hit Christmas song as she colours in a doodle of a gingerbread man.
It's safe to say Harper has inherited Victoria's music skills. The young girl even managed to hit the high notes- power to her!
Victoria couldn't contain her laughter as the six-year-old sang along to the much-loved festive hit.
The fashion designer used one very witty hashtag to describe her daughter's performance. She praised Harper's vocals and wrote #watchoutmariah.
Harper wasn't the only one feeling the Christmas spirit, thankfully the Bah Humbugs stayed away from the comment section of the video.
Fans flooded the post with praise for Harper's singing skills. One fan wrote, Another Posh Spice in the making!"
Another added, "Mariah better watch out! Harper is about to take over the world!!"
Victoria will be thrilled to see the loving comments, one fan shared, "What a voice Harper. Take after your mummy, the best spice girl."
Many people pointed out another one of the talented youngster's skills. One fan spotted the drawing Harper was working on and wrote, "Very artistic! Future designer perhaps?"
Fans agreed with the comment and agreed that she had strong drawing abilities, "An artist hard at work. Love your masterpiece, Harper."
Harper's heart-warming festive performance has lifted our spirits. We may have to listen to some Christmas music and treat ourselves to a mince pie today.
We are counting down the days 'til Christmas!