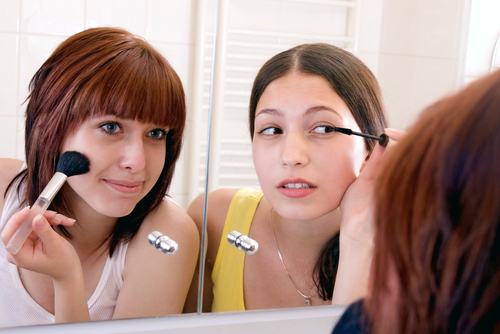 Girls as young as 12 refuse to leave home without make-up on, new research has shown.
A new survey of UK teens aged 12 -14 shows that almost half of young girls (45%) wear make up nearly every day, with 17% of those questioned saying they would never leave the house without make-up on.
Over two thirds of mothers (70%) confessed they regularly hear their daughters complaining about their skin.
A spokeswoman for the study, commissioned by Simple, said that wearing excess make-up will only cause future breakouts and skin dilemmas, adding that make-up can actually be a breeding ground for germs.
"Applying layers of make-up will only serve to block pores, create and harbour more bacteria and inevitably, lead to greater skincare problems as well as confidence and self-esteem issues," she said.
There's no doubt that teenagers are more aware of their appearance than ever before, but what do you think of these alarming statistics?