Sponsored by Doublebase Emollient Gel
Eczema Awareness Week which starts on 14th September, looks to promote awareness, to inform and to advise how to manage the condition.
Firstly, it's important to understand three simple words surrounding this condition that can often cause confusion - eczema, dermatitis and atopic.
You will often hear the words eczema and dermatitis used interchangeably. Atopic or atopy relates to hypersensitivity reactions to something in the environment. Eczema and dermatitis are umbrella terms used to describe a number of conditions that cause the skin to become inflamed or irritated.(1)
Eczema affects approximately 1 in 5 children in Ireland but only affect 1 in 12 adults. Atopic eczema, which may also be called atopic dermatitis is the most common type. Sufferers typically have a dry rash that causes the skin to become irritated and scaly.
Contact Dermatitis occurs when a child's skin comes into contact with products or materials that irritate their skin, causing a rash and in some severe cases, raised blisters.
The length of time the condition lasts depends on the person and the type of eczema. Some flares will only last for a few hours and others can last for days. Some children will also suffer from chronic (long-term) eczema.
Children are more inclined to get eczema if it is in the family or if they suffer from allergic or "atopic" conditions such as hay fever or asthma.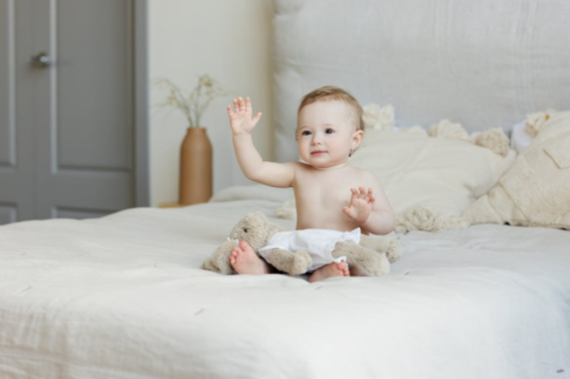 Atopic eczema triggers include exposure to environmental irritants and allergens such as animal dander, the house dust mite or pollen, but sometimes no cause can be identified.
Common irritants of eczema or dermatitis include soap, bubble bath, shampoo, laundry detergents, fragrances, or changes in temperature.
Even though there are factors that trigger eczema flare ups, it is important to remember that the condition can be managed. Knowing how to manage eczema will help you treat any flares effectively and to ease any discomfort your child may experience.
When the skin is impacted by atopic eczema, the skin's protective barrier is weakened, which is how the skin loses moisture. This makes it easier for allergens and irritants to pass through.
The daily use of emollients is one of the best ways to manage and treat your child's skin. Using emollients even when the skin is clear will help to keep the skin moisturised, and help to repair the skin's barrier, thereby helping to prevent irritants and allergens from entering the skin.
One of the best times to apply emollients is just after bathing. Pat the skin dry and then apply your chosen emollient gel, cream or ointment. You should apply emollients in a smooth, downward motion, in the direction of the hair growth. To watch an animation video on how to apply an emollient correctly, click
here
.
Treatment depends on the severity and location of eczema, as well as the age of the person affected. In some cases, steroids or other medications may be needed and may be prescribed by your GP. Always seek advice from your doctor, nurse or pharmacist if you're concerned about your child's skin.