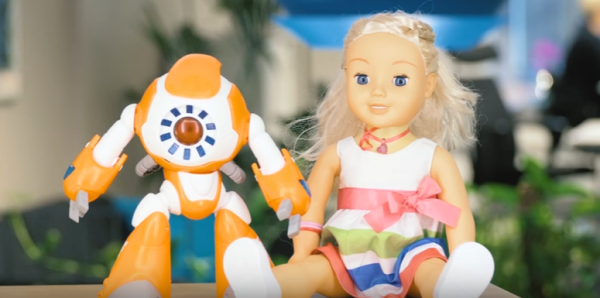 Complaints have been filed against toy manufacturers, who are said to be seriously breaching children's privacy with toys that SPY on them.
The toys at the centre of the complaints are smart toys My Friend Cayla, i-Que Intelligent Robot and Hello Barbie, which watchdogs claim are designed to carry out 'surveillance' on kids and record their conversations.
Both the European Consumer Organisation (EUC) and the US Electronic Privacy Information Centre (EPIC) have called for an investigation into the way manufacturers Mattel and Genesis are using that data collected.
The Norwegian Consumer Council has reviewed two of the internet-connected toys, My Friend Cayla and i-Que. Both toys failed to protect basic consumer rights, security and privacy.
Hello Barbie is currently only available in the United States.
The EUC said, following the review: "With simple steps, anyone can take control of the toys, which can talk and record conversations, through a mobile phone. This makes it possible to talk and listen through the toy without having physical access to the toy."
They determined that the issue could have "easily been prevented" by including a button or requiring physical access to the toy.
#Summer is over and it's time for for #backtoschool. Practice your #reading in a fun way with @MyFriendCayla! pic.twitter.com/DrARy6gPUy

— Cayla (@MyFriendCayla) August 25, 2016
Monique Goyens, Director General of the EUC, said: "Children are especially vulnerable, and are entitled to products and services that safeguard their rights to security and privacy."
"As long as manufacturers are not willing to take these issues seriously, it is clear that this type of connected product is not suitable for children."
Complaints have now been filed with the European Data Protection Commission and the US Federal Trade Commission.
The EUC has advised, "due to the lack of security and privacy protection in these toys, you should think twice before buying them for your children."