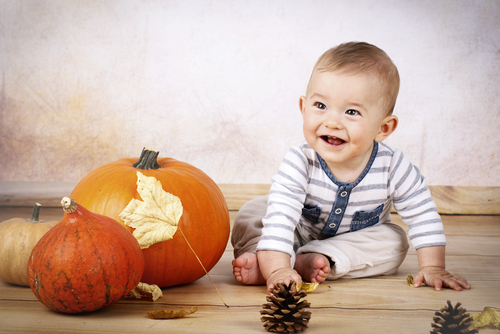 Halloween is not just for older kids and adults – your baby's first one is a special occasion that should be marked. Even though they aren't going to understand what is happening you can still include your little one in the fun and frolics.
Here are six ways you can do it:
Dress them up
There are loads of costumes for babies that you will be spoilt for choice choosing one for your infant. However, keep in mind that they might not like it and, in fact, become quite irritated by it. If this happens just take it off. There is no point leaving it on your little one if they are uncomfortable.
Dress up as a family
Why not
dress up as a family
and include your baby in this. There are so many ideas to choose from or you can even make up your own idea.
Have a little party
If you have older children and depending on your baby's age, why not have a small party. This is a great way for them to feel included without having to go out trick-or-treating.
Be mindful of the scary factor
Make sure you are mindful of any scary costumes or decorations that might frighten your little one. While it might seem innocent enough to you or to other children you don't want your little one to be scarred by the whole experience.
Don't go overboard
Whatever you do, make sure you don't go overboard. Halloween is all about having fun so even if the costume you painstakingly created for them falls apart don't worry too much about it.
Have early fun
Try to enjoy the celebrations early on in the day and fit it in around your little one's nap and feeding schedule. This will ensure their routine isn't disrupted too much.
Above all else make sure you take plenty of photos. This is a day you will want to remember - your little one dressed up in a costume is a snap you will want to treasure forever.