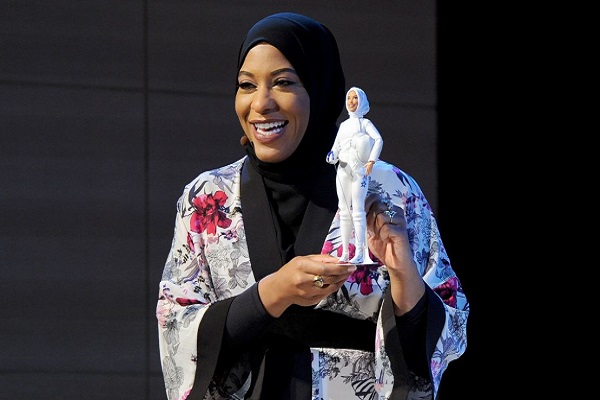 There is one major difference between the Barbie dolls of the past and the Barbie dolls that fill the shelves of toy stores today.
Today's Barbie dolls are unique and refreshing. They come in all shapes and sizes with different hairstyles, occupations and postal codes.
Gone are the days when Barbie was blonde and skinny with a wardrobe full of pink, frilly dresses.
Mattel revealed the joyous news that they will release a Barbie doll inspired by American fencer Ibtihaj Muhammad. The doll will wear a hijab, she will have strong legs and wear dark eyeliner.
These are the requests of Ibitihaj Muhammad who sobbed when Mattel told her they wanted to create a Barbie doll inspired by her as part of the Shero line.
The special doll will be the first Barbie doll to wear a hijab since the brand was created 58 years ago.
Ibtihaj was the first American athlete to wear a hijab whilst competing in the 2016 Olympics.
We are so excited to honor @IbtihajMuhammad with a one-of-a-kind #Barbie doll! Ibtihaj continues to inspire women and girls everywhere to break boundaries. #Shero #YouCanBeAnything #GlamourWOTY pic.twitter.com/oV0e6ClgL6

— Barbie (@Barbie) November 13, 2017
She expressed her delight, "Thank you Mattel for announcing me as the newest member of the Barbie #Shero family!"
The Olympic Medallist thanked them for making so many more girls feel accepted, "I'm proud to know that little girls everywhere can now play with a Barbie who chooses to wear hijab! This is a childhood dream come true."
Vice President of Global Marketing at Barbie, Sejal Shal Miller, said, "Barbie is celebrating Ibtihaj not only for her accolades as an Olympian but for embracing what makes her stand out."
He continued to praise the empowering young woman, "Ibtihaj is an inspiration to countless girls who never saw themselves represented, and by honouring her story, we hope this doll reminds them that they can be and do anything."
Fans were thrilled when the doll was revealed today. One user wrote, "Congratulations! What a great honor and inspiration for all girls of faith and determination."
One teacher commented, "I love this! Makes me want to order a Barbie for my niece! I told all my students about you last year."
Many fans are hoping the doll will be released before Eid next year, however, Mattel has shared that there is no set release date yet.
The Shero line is one of Mattel's most inspiring collections. The range aims to promote diversity and women's success in their individual fields.
The range features a doll inspired by plus-sized model Ashley Graham, as well as Eva Chen who is the Editor-in-Chief of Lucky magazine, Selma director Ava DuVernay and actress Emmy Rossum.
We love the new Barbie collection. The Shero line is one of the most empowering ranges Mattel has ever released!