Belvedere Trick or Treat Trails Sunday 27th & Monday 28th October 2013
On Bank Holiday weekend Sunday and Monday at midday, Belvedere hosts its Trick or Treat Trail through the ancient whispering woodland where thousands of goodies are hidden on the 160 acre estate. Be careful not to disturb the Yeti! This is followed by Tram trips through the Forest of Fear.
Belvedere Scarecrow Festival
On Halloween Weekend Belvedere hosts its second Scarecrow Festival with local schools, groups and individuals competing for great prizes. The Scarecrows are on public display from Friday 25th October 2013 until 31st of October and there is a 'peoples choice' prize.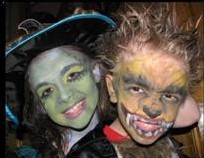 Belvedere Spook Walks - Fri 25th, Sat 26th & Sun 27th October 2013
Spook Walk in the Forest of Fear. Guided walks through ghostly scenarios along a 1.5km trail trough the ancient whispering woods, including;
ScareCrow Garden, Middle Earth, The Fog, Terrifying Tree House, Bad Fairy Garden, Victorian Warped Garden and finally the Haunted Belvedere House where the Wicked Earl has returned from the otherworld at the feast of Samhain.
Wear appropriate clothing and footwear for an outdoor walk and bring a torch.
Booking essential as numbers on walks limited. Starts 7pm and each 30 minutes until last one at 11.00pm.
Suited for children over 8 only.

Adults: €12 Children: €6. Family Rate: 2 Adults 2 Children €30
Season Ticket Holders Adults €10 Children €5. STH Family Rate 2 adults 2 children €25.
Venue: Belvedere House, Mullingar, Co. Westmeath,

Dates and times:
Belvedere Scarecrow Festival from Friday 26th until 31st October 2013
Trick or Treat Trails 27th & 28th October 2013 (Bank Holiday Weekend)
Belvedere Spook on Fri 25th, Sat 26th & Sun 27th October 2013, starts 7pm and each 30 minutes until last one at 11pm.