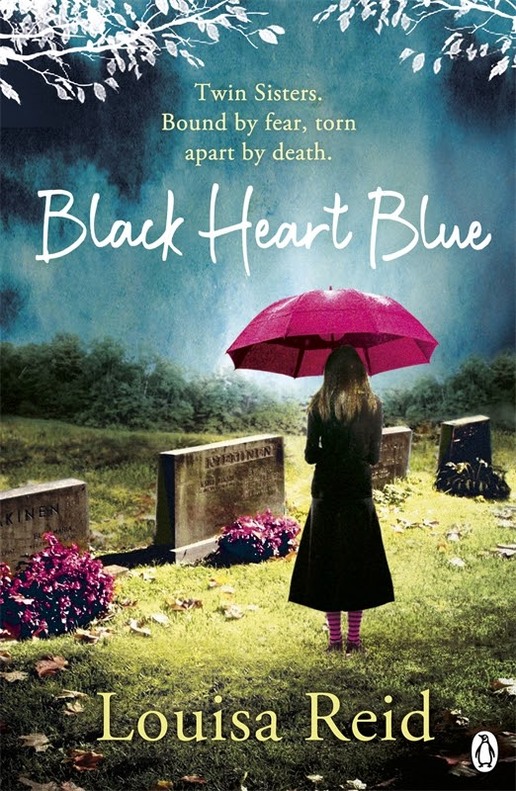 'Black Heart Blue' is Louisa Reid's debut novel for older teenagers. It's a thought provoking, unforgettable novel that will haunt you long after you've finished reading it. Your teenage book-worm will want to pass it on to all her friends. It's a novel that can equally be enjoyed by adults due to its adult themes and brilliantly constructed plot.
This impressive novel isn't for the faint-hearted as it's filled with dark themes, scenes of violence and abuse but there is an overarching feeling of hope throughout. However, unlike many other young adult novels "Black Heart Blue" is an immensely worthwhile novel that teaches the importance of standing up for the truth and accepting others despite their differences.
Rebecca has to attend her beautiful twin sister Hephzi's funeral but it's all a farce. She alone, knows what really happened to her sister and now she is alone at the vicarage. Hephzi was courageous and daring, always dreaming of finding freedom but will Rebecca be the one to escape?
The twins have led a sheltered dark life in the shadows, plagued by abusive parents, until they are finally allowed to go to school in their teens and socialise with other young people their age. Both sisters react differently to this new change. Rebecca has been born with a disorder that has left her almost completely deaf and her facial bones disfigured. She is used to the stares, the looks of horror as she passes, and has resigned herself to a life spent in the shadows. While, Hephzi, on the other hand is beautiful and determined to do all she can to fit in with the cool kids at school. This involves dressing, talking, acting like them and leaving her sister out of it.
As the story unfolds, switching between past and present, the twin sisters both reveal truths that will horrify, shock and keep readers hooked to the very last page.
The book will keep your teenager utterly transfixed as she tries to figure out how Hephzi died and just how Rebecca will escape. It's a book that forces the reader to ask 'Why did nobody do anything? 'Black Heart Blue' doesn't shy away from issues such as disability and abuse like other young adult novels which makes it all the more remarkable and important. The truth is children have disabilities and children are being abused. It's a courageous novel that deserves to be enjoyed, appreciated and ultimately treasured. While Louisa Reid's novel deals with dark and depressing subject matter, it's not a tough read so it's suitable for even the most reluctant of readers.
Black Heart Blue by Louisa Reid is published by Michael Joseph/Puffin , €8.99/£6.99