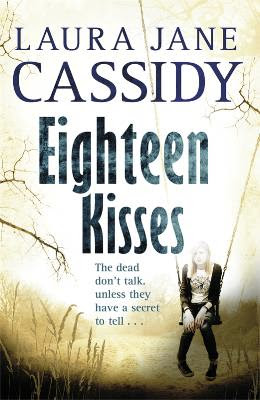 As most mums know, it can be hard to get teenagers away from a computer or television screen, however we have found that tempting them away with a suspense filled supernatural thriller tends to do the trick! Ireland's very own Laura Jane Cassidy has just released her second novel for teenagers and it's sure to be a best-seller! Her first book 'Angel Kiss' saw fifteen year old Jacki King trying to adjust to her new life in a small village after relocating from Dublin but no sooner is she getting used to her new life when she begins to experience torturous headaches, nightmares, voices and visions and she begins to realise that something paranormal is beginning to happen and that it involves a murder in the village years before.
'Eighteen Kisses' sees Jacki back in Dublin, interning at Electric magazine. She still has flashbacks to the murder case she solved the year before, though her friends help keep her distracted. Until, one day Jacki's frightening nightmares begin again and when the police contact her about a local missing girl, she knows the two are connected. Two years before, on her eighteenth birthday, Kayla Edwards disappeared, no body has ever been found but now Kayla is communicating with Jacki from beyond the grave and she won't stop until the truth is revealed.

'Eighteen Kisses' is a taut, suspense filled mystery that is guaranteed to keep any reader guessing right up until the end. Laura-Jane captures the everyday issues of teenagers with her accurate portrayal of rocky relationships, falling in and out of love and the uncertainty that comes as part and parcel of being a teenager. This portrayal of teenage confusion compliments the tense, frightening world of the supernatural that haunts Jacki. Your teen will identify with lots of the issues faced by Jacki and her friends and as its set in Dublin may even recognise some of Jacki's favourite haunts.
'Eighteen Kisses' makes the perfect gift for any teenager who loves to read or equally if you have a reluctant reader in your midst then this enthralling book with its constant twists and turns will keep even the most sceptical of readers entertained.
Eighteen Kisses is published by Puffin, RRP €9.99/ £6.99