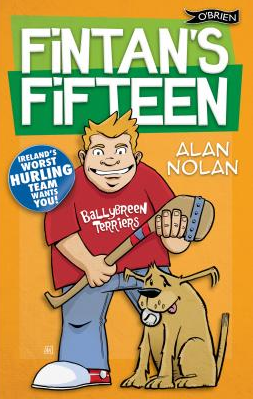 If your child is a fan of hurling, they are sure to love Alan Nolan's book, Fintan's Fifteen.
The book is based on Rusty Arantes' quest to turn his hurling team from being the worst team to winning the precious Lonergan Cup.
However, poor Rusty has a lot to do as the Ballybreen Terriers are the worst U12 hurling team in the world and he has only been playing hurling for a year.
The team has already lost seventeen matches in a row and more than half their players. So, in a desperate bid to recruit new players, midfielder Rusty, Katie 'Dinger' Bell and the team's mascot Ollie the Dog go on fun and daring adventures. But can they do it without the help of ex-Ballybreen Terrier, the legendary Fintan Lonergan?
As they try to thwart the efforts of rival bainisteoir Seáneen Brannigan, the trio recruit new players from different backgrounds and learn new skills.
The story is told through the words of Ballybreen player Rusty and is aimed at children aged nine. The book uses various styles to tell the story including comic strips and newspaper clippings. There are
plenty of pictures throughout that your hurling-loving child is sure to love.
It will make you laugh out loud, gasp in shock, cry and even learn a hurling skill or two.
Finan's Fifteen is on sale now and is priced at €7.99. It is also available as an ebook.