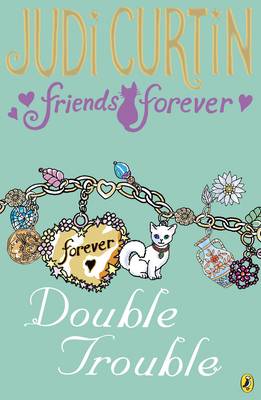 Here at MummyPages we're always on the lookout for children's books that we just know kids will love and cherish so we were delighted to hear that Ireland's favourite author for 8-12 year old girls is back with the second book in her Friends Forever series.
The Time Spell
, the first in the Friends Forever series, saw Lauren and her magical time-travelling cat Saturn trying to get out of all sorts of bother aboard the Titanic.
'Double Trouble' sees the return of Lauren and her magical time-travelling cat Saturn but this time Lauren's best friend Tilly joins them for a magical adventure in Ancient Rome! Lauren and Tilly find themselves being sold as slaves but that isn't even the scariest part as they just happen to be living near Pompeii when Mount Vesuvius starts to smoke and the ground starts to tremble. 'Double Trouble' is a tale filled with magical adventure, fascinating historical encounters and above all friendship.
Judi Curtin writes flawlessly for young girls. Lauren has just the right amount of braveness and sense of fun that makes her the perfect heroine but she's also just like any other young girl her age which makes her so easy for young readers to relate to. 'Double Trouble' like all of Judi's books teaches the value of friendships and the importance of treasuring a true friend. So, if you know a girl who loves to read, likes adventure, magical time-travelling cats and is always getting up to mischief with her best-friend then this is the book for her!
Friends Forever: Double Trouble is published in paperback by puffin, £5.99/ €7.99