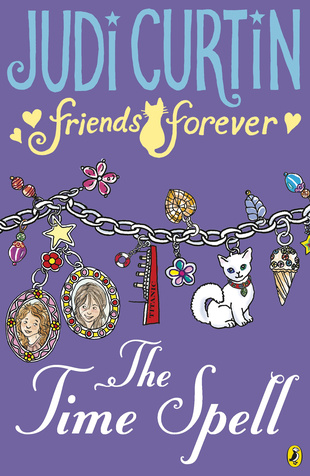 Judi Curtin is Ireland's most popular author for girls between the ages of 8-12 and even outsells Jacqueline Wilson here. The time spell is the first in the Friends Forever series and sees Judi stepping away from her real life stories of family and friendship into the world of time travel.
So if you know a young girl who loves stories filled with adventure, magical happenings and strange cats then this is the book for her!
Lauren is just an ordinary girl who loves spending time with her best friend Tilly and can't wait to grow up and do something meaningful with her life. Everything changes when a trip to the park results in her adopting a rather strange looking cat, named Saturn who has long white hair, eyes that don't match and strange powers. One minute she's cuddling her new strange pet, the next thing she knows its 1912 and she finds herself aboard the Titanic. Lauren meets her new best friend Mary, a third class passenger and realises she must do something to change Mary's tragic fate of destiny.
It's a fabulous read full of interesting characters, plot twists and plenty of excitement to keep even the youngest of readers entertained. Ultimately it's a tale of friendship, a subject with which Judi tackles with an expert authority and there's never been a better time to get your little bookworm reading The Time Spell with 2012 being the centerary of the sinking of the Titanic.
Friends Forever: The Time Spell is published by Puffin Ireland and is £5.99/€7.99