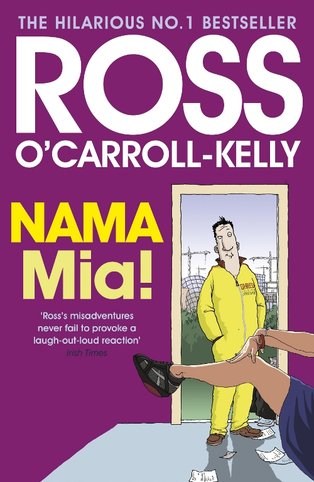 If you're looking for the perfect gift for a special man in your life then look no further than 'Nama Mia!' Ross O'Carroll-Kelly might be a fictional character but he is still one of Ireland's best loved rugby heroes! Ross first appeared in the Sunday Tribune in 1998 and to date there have been ten novels, two stage plays, a mock biography, a spoken word album and numerous newspaper columns chronicling the adventures of the lovable, lager-swilling, rugby-loving toff from Foxrock.
'Nama Mia' the latest book in the Ross O'Carroll-Kelly saga sees our hero thriving despite the recession. He is working as an executive for a shredding company and business is booming as shredding confidential documents has never been in such high demand! Ross meets the well-preserved 60 year old Regina Rathfriland and after receiving several very expensive gifts realises that he is in fact....a gigolo and he likes it!
The latest Ross O'Carroll –Kelly book is a hilarious, laugh-out-loud rollercoaster of a read that sees Ross at his very best. It's a book that is utterly addictive and you just won't be able to put it down! It would make the perfect gift for any sport-loving, beer-swilling, red-blooded male in your life! And once they have raced to the last page then you can sit back and have a good giggle for yourself!
Ross O'Carroll-Kelly Nama Mia! By Paul Howard is published by Penguin, RRP €9.99