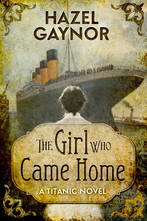 We here at MummyPages began following Hazel Gaynor when she started her blog 'Hot cross mum' in 2009 and we've been hooked ever since. For those of you who aren't in the know, Hazel started a blog about parenting issues and her funny, irreverent and genuinely insightful style soon saw her become a favourite in blogging circles and beyond. Since then, her writing career has really taken flight and she has published a very successful book 'Hot cross mum: bitesize slices of motherhood' (which we adored) which humorously charts her sometimes stressful but always inspiring journey from the corporate world to the everyday domestic world of being a full-time mum!
So, you can imagine how thrilled we were to hear that Hazel has written a new book 'The Girl Who Came Home: A Titanic Novel' which has just been published on kindle and is already receiving rave reviews. It's been Hazel's lifelong dream to write a book about the titanic and this novel is a sort of love letter to those who sailed on the doomed ship. It is inspired by the true events surrounding a group of Irish immigrants who sailed on the maiden voyage of R.M.S Titanic and is a tale of enduring love and forgiveness that spans seventy years.
In a rural Irish village in April 1912, seventeen year old Maggie Murphy is anxious about the trip to America. While the thirteen others she will travel with are eager to embrace a life of prosperity and opportunity, Maggie is distraught to be leaving Seamus, the man she loves, behind. As she leaves the village forever, she clutches a packet of love letters in her coat pocket and hopes that Séamus will be able to join her in America soon. Aboard the ship, Maggie and her group of fellow travellers befriend an Englishman, Harry Walsh who is working on the ship. Being friendly with one of the radio operators, Harry helps Maggie send a telegram to Séamus but before the full message can be transmitted disaster strikes, leaving Séamus confused by what he reads. Against unimaginable odds, Maggie survives, arrives in New York three days later and doesn't speak of the titanic for the next seventy years. It is only when her great-granddaughter Grace Butler discovers the truth of Maggie's past and decides to write a story to help ignite her career in journalism that offsets a chain of events which ultimately unravels the mystery of Maggie's missing love letters and the fate of those she sailed with on the Titanic.
'The Girl Who Came Home' is a story of survival and loss and of hope and despair. Hazel has been fascinated by the titanic ever since she was a child and this unwavering passion for the story of the Titanic is unquestionable; she has documented every detail with the keenest attention, recreated the sense of tragedy so poignantly and has created characters that are so richly and so warmly brought to life. Hazel treats the titanic tragedy with a remarkable respect and sensitivity that pervades the novel. With this being the centenary of the titanic, there's never been a more apt time to delve into this book and we guarantee you won't be able to put it down.
The Girl Who Came Home is available now on the Amazon Kindle Store.
Click here to download from Amazon.co.uk
. If you don't have a kindle, never fear, you can dowload a free kindle player that will work on any laptop, computer or tablet.