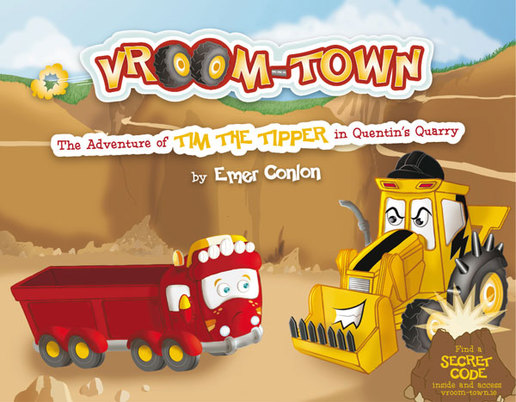 We just couldn't wait to tell you about a rather clever and delightful new series of books for boys age 5-8 by Irish author Emer Conlon that have just arrived in the world of children's literature. The series is called Vroom-Town which is a wondrous place filled with all types of trucks, with all types of personalities who work, play and have many exciting adventures.
'The Adventure of Tim the Tipper in Quentin's Quarry' is the first book in the Vroom-Town series. The books are also cleverly linked to an interactive website, Vroom-Town.ie which is an interactive website filled with lots of free games, puzzles and colouring sections which is another really great way to get kids interested in reading. Kids can also join the website and will receive a free Vroom-town t-shirt and exclusive access to special areas of the website.
It can be difficult to find books for boys aged 5-8 but Vroom Town provides boys aged 5-8 with topic in which they can have a real interest in. The residents include Bullydozer, Screech, Tim the Tipper, Terry the terrible tractor unit, Bill Byrne and many, many more. Your 5-8 year boy will fall in love with the Vroom town residents and want to hear more.
Vroom Town: The Adventure of Tim the Tipper in Quentin's Quarry would make an ideal gift for a special little boy in your life.
It's available in all good book shops, on amazon and is also available to buy
here
.