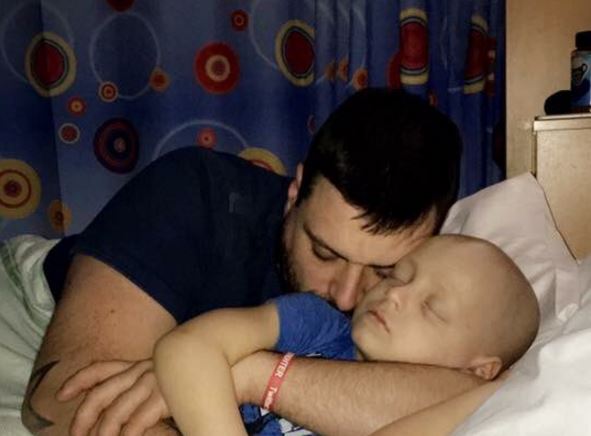 Bradley Lowery is just five-years-old; he was diagnosed Neuroblastoma at the age of two but succeeded in beating the cancer after a long fight.
Sadly, in July 2016, Bradley relapsed, and the family, who set up a fundraising page to raise money to bring the youngster for specialist and progressive treatment in America, have just learned that they have three options left - none of which offer a cure.
Devastating news today. https://t.co/sjgsBGPuDi pic.twitter.com/K0ivi7H5Oy

— Bradley Lowery (@Bradleysfight) December 7, 2016
"As most of you know Bradley's had scans the last few days," Mum Gemma Lowery wrote on her son's fundraising page, Bradley Lowey's Fight.
"To cut a long story short I'm devastated to let you know that his cancer has continued to grow.
"We have had a meeting with Bradley's consultant and he has giving us three options - but all three options only give us time with Bradley."
@Bradleysfight I'm feeling absolutely devastated for you all, keep fighting my beautiful little smiler xxx

— Zoe Cockcroft (@ZoeCockcroft1) December 7, 2016
Option one for the family means stopping all treatment - which will give them just two months with their son. Option two is to give Bradley oral chemotherapy, which his consultant doesn't think will do anything.
The family's third option is to bring him to America where he can receive an antibody and chemo combination.
Bradley in Durham last night for the switch on of the Town's lights. pic.twitter.com/IRobWFY0rs

— Bradley Lowery (@Bradleysfight) December 3, 2016
"However [the consultant] believes if we do that we could lose Bradley through treatment and we will be in hospital for at least two months," Gemma wrote.
"He believes regardless of the three options we have they all have the same outcome and that is Bradley will lose his fight.
"I honestly have no words to how heartbroken I am right now."
@Bradleysfight Absolutely heartbreaking for you and your family. Whatever decision you make as a family it will be the right 1. Stay strong.

— Matt Wheatley (@WBA1878) December 7, 2016
Understandably, the decision is going to be tough on the family
"I really don't know how I'm going to make a decision either to take my baby home and have a couple of months with him or put him through more gruelling treatment that could leave him fighting for his life and to have the same outcome."
Do you have a story you would like to share with MummyPages? Click here and you could be in with a chance of winning €250.