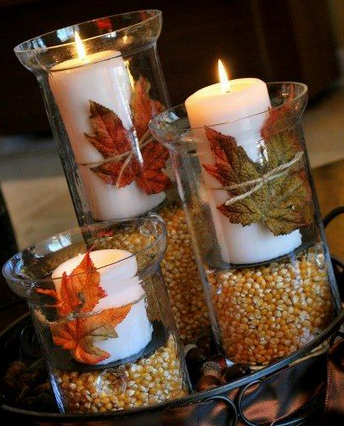 There is just something so nice about autumn – the colours, the crunchy sounds of the leaves underfoot and the cool, crisp days that don't last long enough. This year, why not bring a little bit of the colours and smells into your home so that you can enjoy it without the chill.
Candles
Candles are a great way to create an atmosphere. Pick up some cinnamon and woody smelling ones that will give your home a real outdoor scent.
Throws
Pile your couch with plenty of autumn colour throws to create warmth and texture. Go for wool and cotton ones to add depth and a cosy feel.
Light a fire
If you are lucky enough to have a fireplace, why not light it one evening and sit in and relax among your throws and candles. Nothing says it's autumn better than a lit fire.
Bring in the garden
Your garden is no doubt adorned with lots of brown, crunchy leaves, horse chestnuts, pine cones and berries. Gather some up and create a lovely display along your mantlepiece.
Frame some leaves
Put a few leaves add pressed flowers into plain frames and hang them up in your home.
image via Pinterest