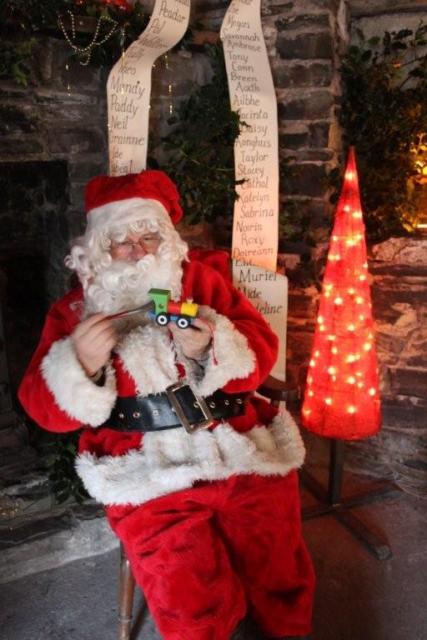 Causey Farm comes alive with a festive atmosphere – as they celebrate Christmas with all the traditional charm and magic you'd expect. All the sheds have different Christmas-themed events and everyone moves from place to place to sample each new experience.
Christmas at Causey Farm Includes:
Visiting Santa's house and help Mrs Claus pack his bag for the big journey.
Slide down into the toy workshop and play with the toys Santa has ready for packing.
Make your way through the Elves' door to Santa's Parlour.
Listen carefully, is that a noise on the roof? You'd never know who might arrive down the chimney – and of course he has a gift for all the children – Hope your name is on one of his parcels!
Follow the Bethlehem trail to the stable where Mary and Joseph take care of their new arrival, watched over by the cows, donkeys, sheep and lambs.
Enjoy some mulled juices, mince pies and cookies in Yuletide Hall.
Visit Christmas Cottage to experience an old Irish Christmas; make a wish as you stir the pudding!
And of course don't forget to visit the reindeer as they relax before their big night.
Each Christmas event lasts one and a half hours.
When: December Saturday 1st , Sunday 2nd, Saturday 8th, Sunday 9th, Friday 14th, Saturday 15th, Sunday 16th, Friday 21st, Saturday 22nd and Sunday 23rd.
Where: Causey Farm, Girley, Fordstown, Navan, Co. Meath
Price: Adults: €12.00 Children (aged 2-12): €20.00 Toddlers (aged 12-23 months): €6.00 Babies (0-11 months): Free of charge.