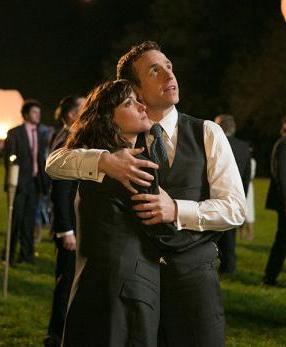 For any mums looking for a good rom/com this Valentine's Day, we have the perfect movie for you. 'I Give It A Year', as you can probably tell from the title, is not your traditional romantic comedy, but it is certainly going to be one of the funniest movies you see this month.
The movie starts with Nat (Rose Byrne) and Josh (Rafe Spall) in a couple's counselling session just nine months after getting married. From here we go back to the beginning, and explore whether this couple are really right for each other. Along the way we meet some hilarious characters, including Nat's sister (Minnie Driver) and Josh's best friend (Stephen Merchant), none of whom think the marriage will work. Things get even more complicated when both Nat and Josh are tempted by other people in their lives – Nat by her new gorgeous client (Simon Baker) and Josh by his ex-girlfriend (Anna Faris).
'I Give It A Year' comes from the producers of Love Actually and Bridget Jones' Diary, and the writer of Bruno and Borat, which accurately reflects what to expect from this movie. There are some lovely, sweet scenes mixed in with cringe, vulgar humour that you will either love or hate (we loved it!). If you are like us you will be laughing the whole way through, while also squirming with embarrassment.
While Simon Baker is his usual hunky self, it's the lead actor Rafe Spall who seems to win women's hearts in this movie. Now that Hugh Grant has given up playing lovable romantic leads, it was time that cinema found a new British man for women to swoon over. Spall is a good replacement and his sweet, cheeky charm is sure to make him the new poster boy for British comedy.
This is the perfect date movie for Valentine's Day. While 'I Give It A Year' is not your standard romantic comedy, it works perfectly as a date movie, because both you are your hubby are guaranteed to be entertained. Check out the trailer here.