Can you believe it's been 25 years since the release of Mrs. Doubtfire?
The beloved film holds a special place in our hearts, especially since the tragic passing of Robin Williams.
In honour of the film's anniversary, child star Mara Wilson (who played Natalie) shared one of her favourite memories of the iconic comedian.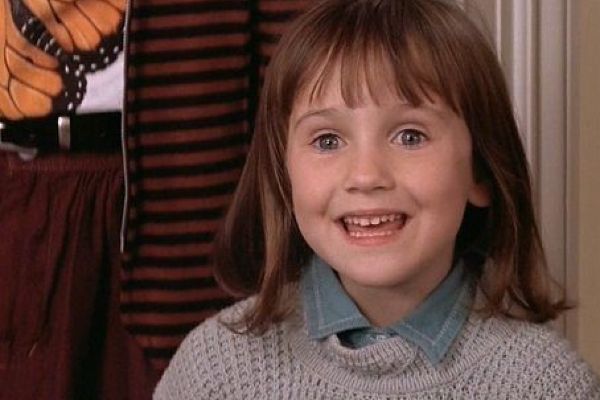 Mara was just five-years-old when she landed her role in the movie, and she said that Robin always knew how to get her to smile during long days of filming.
Speaking to Entertainment Weekly, she said that the comedian would do a freestyle rap about the life of an ant in between takes, and it always cracked her up.
"He used chopsticks as antennae and at the end of the scene he used them again to get me to smile," she laughed.
"They left that part in, but cut out his song and dance about it. He could really riff on anything."
"Look at this. My first day as a woman, and I'm getting hot flashes."

- Robin Williams #MrsDoubtfire pic.twitter.com/d8IvI8AGK1

— Ian (@CapCorn1987) November 24, 2018
Mara, now 31-years-old, also remembered her relationship with Sally Fields fondly. At one point, the actress pulled Mara aside to help her practice her lines one-on-one.
"I remember when I had to say, 'We're his Goddamn kids, too,' that Sally took me aside and rehearsed with me," she recalled.
"She was so sweet — she was making sure I would say it more fiercely and more intensely, and then [she said], 'Good, you scared me this time.'"
On this day in 1993, Mrs. Doubtfire came out in theaters. Happy 25th Anniversary! #OnThisDay #MrsDoubtfire #25thAnniversary pic.twitter.com/oNVzYkWqMG

— Alec Behan (@alec_behan) November 24, 2018
Mara loved being a childhood actress and feels lucky to have worked with big named actors at such a young age.
"I do think that being a child actor was difficult in some ways, like it made me more of a perfectionist.
"There were a lot of people out there who were very cruel. But I had a lot of great opportunities that a lot of other people didn't and I met a lot of wonderful people.
"You kind of have to come to peace with it all."