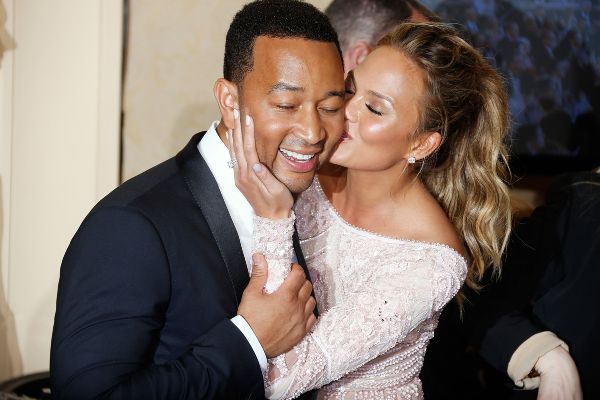 As much as we love our partners, little quibbles are bound to pop up, and they always seem to be about the most inane things.
Chrissy Teigen and John Legend are in the middle of one such tiff. The expectant mum threw down the gauntlet on Twitter the other day, accusing her beloved husband of stealing her phone chargers.
"Yes @johnlegend I buy and leave all the phone chargers all around the house just so you can unplug them all and take them to work with you. All of them! I love that you love chargers! They're all for you! I just love you that's why I buy them. Because you love them!" the model tweeted.
She even shared a photo of a unicorn charger, egging John on with "Take this one you thief."
I'm buying this pic.twitter.com/f0Vyv0R2rl

— christine teigen (@chrissyteigen) 8 February 2018
@johnlegend take this one u thief

— christine teigen (@chrissyteigen) 8 February 2018
John's not one to go down without a fight, though. He denied her egregious claims wholeheartedly.
These outrageous allegations are simply false. I have been transparent and truthful about these vile claims, but I will not further engage publicly with a coordinated smear campaign https://t.co/czvvEyT39u

— John Legend (@johnlegend) 8 February 2018
Celebrities even started taking sides in the hilarious social media battle.
Mindy Kaling found herself in Chrissy's camp.
You responded like a day later, you are so guilty dude https://t.co/irBZeUd6dZ

— Mindy Kaling (@mindykaling) 8 February 2018
She makes a pretty compelling argument...
Orange Is the New Black's Ruby Rose offered a creative solution for Chrissy's problem.
@Jessicaveronica lol .. You. You are why I need 50000 chargers on my rider.

— Ruby Rose (@RubyRose) 8 February 2018
If only we all had riders so we wouldn't be stuck charger-less!
What's the verdict, mums? Is John guilty? Does your significant other ever steal your phone charger?