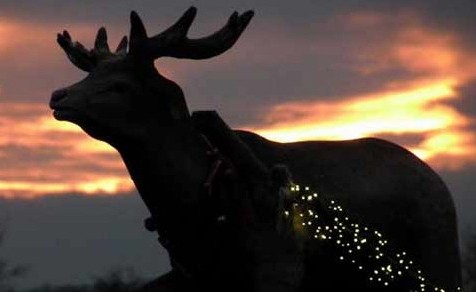 Every year Kia Ora becomes Wexford's winter wonderland with thousands of Christmas lights and is visited by the red hatted man himself, Santa Claus and his reindeer. The smell of mulled wine and Christmas cake radiates around the farm and the farm is decorated with thousands of twinkling lights.
There is a live stable of Bethlehem and also an illuminated crib. Santa gives a very generous gift to each child who comes to visit him during his stay while the adults warm up with complimentary tea/coffee/mulled wine and cake in the cosy coffee shop. Take a ride on the Kia Ora Mini Farm Fire Engine with fun Christmas sing along songs. Milk the milking cow and play the Giant Buzz Off Game. Go crazy in the fun new maze!
Watch the lights dance and move to the music - A delight for all the family and a fabulous new addition to the farm.
Christmas is a time of peace and joy and best spent with loved ones, where better to get back to nature and enjoy the simple pleasures in life than at Kia Ora Mini farm. The aviary has a fantastic selection of birds and during the winter the majority of the animals are indoors so no matter what the weather is like you can come and have fun and see all the cute little animals in the barn such as rabbits, hamsters, guinea pigs, mice and rats!!
There is also a really cool tractor area where the younger children can trundle about and even do a bit of digging in the special sand pit! For the slightly older kids we have a special racing track with rough riders and it is all enclosed so they can race without fear of bumping into 'little ones'.
When: Saturday 24th & Sunday 25th November 1-6pm
Saturday 1st & Sunday 2nd December 1-6pm
Saturday 8th & Sunday 9th December 1-6pm
Every weeknight 10th December to 14th December 4-7pm
Saturday 15th & Sunday 16th December 1-6pm
Every weeknight 17th to 21st December 4-7pm
Saturday 22nd & Sunday 23rd December 1-6pm
Closed on Christmas Eve
December 23rd there is a live nativity. Doors close at 5.45pm sharp as Joseph and Mary arrive with the donkey to the live stable at 6pm
Where: Kia Ora Mini Farm, Courteencurragh, Gorey, Wexford
Contact: 053 94 21166 or 086-8788424 or 086-0836715