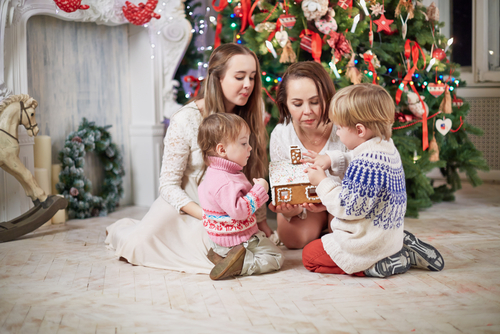 Christmas Eve is just as special as the actual day for so many households with many family sticking to traditions that even the parents did growing up. But not everyone has a tradition that they can enjoy or do every year, often thinking that once the kids are no longer babies there is no point.
But it is never too late to start a tradition, so here are six ideas to help you feel inspired.
Sprinkle reindeer dust in the garden
Why not sprinkle reindeer dust outside in your garden to light the way for Santa and his reindeer. Simply mix a handful of porridge oats and glitter to make a really lovely dust and let kids sprinkle it around the garden. They can do this right before they go to bed.
Wrap presents
Why not leave the gift wrapping until Christmas Eve and spend the day sitting around the tree with festive music playing. The whole family can get involved and you are guaranteed to have a lot of fun.
Watch a Christmas movie
Pop on your pyjamas, snuggle down on the couch with your children and spend the evening watching all of your favourite Christmas movies. A box of chocolates to share and a blanket wrapped around you makes for a really lovely evening for the whole family and lets the kids relax, helping them go to sleep.
Santa's cookie and milk
Make a big deal of laying out Santa's cookie and mug of warm milk. Make sure your kids write a letter to Santa thanking him for all the gifts.
Go Christmas tree watching
Hop in the car and drive around your area Christmas tree spotting - make a game out of it by seeing who can spot the most trees. Alternatively, why not head into town, look at the lights and soak up the festive atmosphere.
Bake cookies for Santa
If you love baking why not spend the afternoon with your youngsters baking some biscuits for Santa - you can keep some for yourself as well, if you like. Pick up a few festive cutter shapes or make your own by putting a Christmas shape cut out of cardboard onto the dough and cutting around it. Decorate with hundreds and thousands, even melted chocolate or with icing in festive red and green colours.