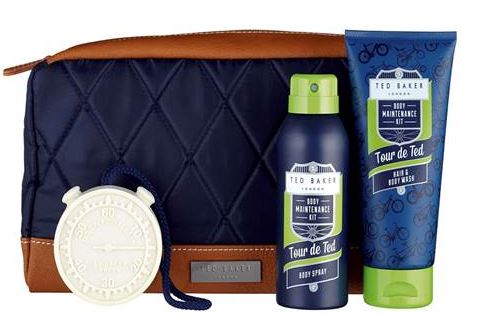 With Christmas just around the corner, it is never too early for mums to start thinking about what to get the man in their life.
This year, instead of sticking to the usual socks and ties, why not treat them to one of Ted Baker's Tour de Ted gift sets. There are four different sets that will suit all men and all types of budgets.
For the jet-setting male in your life, why not treat them to the Tour de Ted Body Maintenance Kit or if they are keen cyclists, Ted Baker's Mean Clean Cycling Machine would be ideal.
Mothers who have a little more to spend, can indulge in the Ted Baker Performance in a Bag gift. The body sprays, hair products and body washes come in a cool backpack, making it the perfect gift for the hubby who travels a lot.
Dads, husbands and partners across the country will be pleasantly surprised when they open up their present on Christmas morning and find something other than their usual novelty socks.