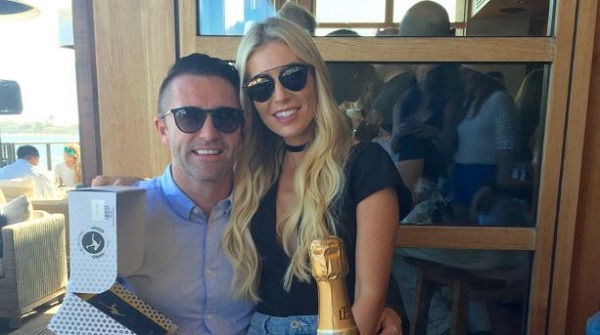 They have been living the jet-set lifestyle ever since they moved over to the States five years ago, and if Claudine Keane's latest admission is anything to go by, her family may have just found their 'forever' home.
In her latest column for the Irish Daily Star, the Irish mum-of-two revealed that she and Robbie have just moved into a stunning new mansion in Beverly Hills.
Having previously moved around, Claudine and Robbie made the decision mainly out of a desire to make things easier for eldest child Robert.
date night..14 years later#nokidsforaday #birthday/anniversary pic.twitter.com/gBQ4pIi3oV

— Claudine Keane (@ClaudineKeane1) July 13, 2016
"We really wanted to be close to Robert's school, and Rob wanted a more modern home; but my big wish was to take advantage of living in Beverly Hills and the amazing views of the city," wrote Claudine.
And we can certainly see what she means, judging from her latest Twitter snap. In it, Claudine and Robbie are seen posing up in front of their swimming pool, with the incredible views she spoke of in the background.
So lovely to move into our new house in LA.. Loving the views pic.twitter.com/18Z6fGMA99

— Claudine Keane (@ClaudineKeane1) July 23, 2016
"When I wind down in the evening, there's nothing better than relaxing with the LA skyline lit up," she added. Wow – we can dream!
The couple are parents to seven-year-old Robert Jr., and nine-month-old baby Hudson.
SHARE with a fan of the couple who will melt over the latest shot.