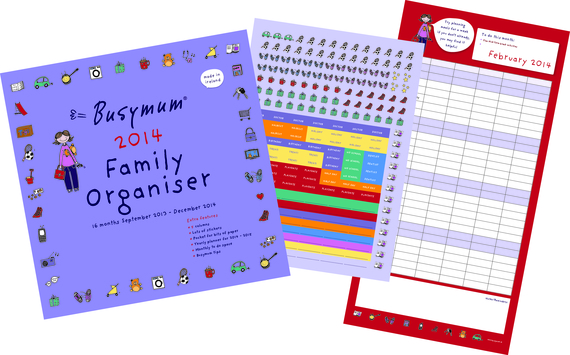 MummyPages has
teamed up with
Busymum
to offer you this beautiful Busymum 2014 Family Organiser. Oh how we love making our mums' lives a little easier.
Maintaining the diary of a family is a full time job as you try to keep track of the changes and updates to an already chaotic schedule - and that's just the kids' activities. Add to that the usual household tasks and the never ending duty that is grocery shopping and you have yourself a recipe for potential disaster.
If you're anything like us, you have various lists on your phone and scraps of paper at the bottom of your handbag, which naturally end up forgotten about. With this gorgeous organiser in your possession, you can bring some order to your life.
It runs from September 2013 to December 2014 and is laid out in a grid style, so every family member has their own column. Each month has lots of features to help you organise and plan, such as highlighted weekends, a to-do space for notes and Busymum tips.
To be entered into the competition, comment below and tell us the most important family event or activity you forgot due to your hectic mum schedule.
Winner will be announced at 4pm on Friday 9th August 2013.