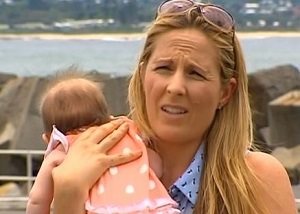 A brave mum saved her newborn baby from a vicious dog attack by shielding her with her own body.
Danielle Vaughan sustained serious puncture wounds and bruising after she and her 11-week-old daughter Abigail were targeted by five vicious dogs.
The mother and her daughter were walking along East Corrimal Beach in Wollongong, Australia, when the dogs approached, barking and biting.
Speaking to 7News after the terrifying incident, Danielle said that her first instinct was to shield her daughter from the attack.
"I was trying to turn the pram away and I just kept getting bitten on the back of my legs," she explained, adding, "It was just really scary."
Danielle admitted that had her two-year-old son been with her at the time, there would have been a fatality.
"It would have ended fatally. If it was her or if it was my son, it would have been a lot worse. The puncture wounds that I have are very deep and if a child had sustained them, it would not have ended well," she said.
Danielle added that the dogs' handler refused to help or put the dogs back on their leashes, and also refused to apologise.
The incident has driven a local councillor to campaign for the overturning of a law allowing unleashed dogs on beaches.