Whether you want to relax and unwind, or re-energise and refresh, Cowshed has fabulous products for whatever your mood. Cowshed was first launched in 1998 and has since developed several ranges to fit the needs of consumers who want natural therapeutic products. Every product is botanically based, and contains 100% natural pure essential oils to provide maximum therapeutic effect and enhance wellbeing.
Every range of Cowshed products include bath and massage oil, bath and shower gel, body lotion, soap, room candle and travel candle set. If you have had an exhausting day and want to unwind then try 'Knackered Cow' with herbaceous essential oils of lavender to restore harmony and eucalyptus to ease tired muscles.
For days when nothing is going your way and you need a pick-me-up, 'Moody Cow' could do just the trick. This range is a floral blend that restores harmony. It contains essential oils of rose geranium to help regulate emotions and hormones, linden blossom to relieve tension, and frankincense to soothe and calm.
Our personal favourite is 'Horny Cow' (and not just because of the great name). 'Horny Cow' is a seductive, classic floral blend with rose absolute, designed to heighten romance. This sensual new fragrance contains essential oils of patchouli and spicy cinnamon which arouses desire. This is one item your hubby will be delighted to buy you for Christmas.
If the kids have you drained and you need a burst of energy, you can rediscover your zest for life with Grumyp Cow. This range contains citrus essential oils of mandarin red to invigorate the senses, petitgrain to cleanse and grapefruit to stimulate circulation.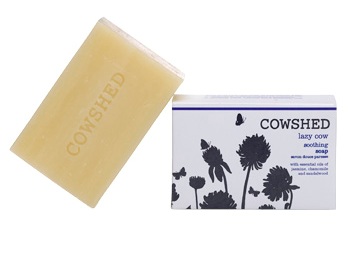 If you are having a lazy day and would like nothing more than to put up your feet and take it easy, Lazy Cow is the perfect way to get you into a relaxed mood. The blend of jasmine, chamomile and sandalwood will sooth and calm your senses, you after soaking in the bath, you can throw on a robe and take it easy.
Cowshed products are available to purchase in Cowshed Spas and Shops, and online at
www.cowshedonline.com
. Cowshed is also stocked in over 100 stores across the UK, Europe, the US and Australia.