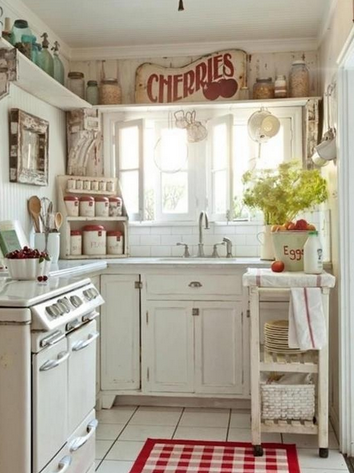 A retro kitchen is not all about pulling out your granny's best china or hanging net curtains on the window over the sink, there is a lot more style and thought needed than that.
If you would rather choose vintage over modern any day, you have definitely come to the right place. Here we will tell you just how easy it is to recreate the style without having to spend an absolute fortune.
Glass cabinets
Show off your flower cups and saucers in a large glass cabinet. You can pick one up cheaply in most second hand or charity shops and with a little lick of paint you can bring it back to life.
Don't hide those scratches
You know those scratches that you little one engraved into the kitchen table? Well now is the time to show them off. A retro style kitchen isn't about being neat and new – the older it looks the better.
Replace cabinet handles
Remove your modern style handles on your kitchen cabinets in favour of something a little more fifties. Cheap, easy and quick to do.
Appliances
Pop a few old fashioned styled toasters, kettles, weighting scales and even a fridge into the room for an authentic feel.
Colour
Incorporate pops of strong colours through your teacloths, tins and dishes.
Accessories
Finally, finish by strategically placing vintage tea, coffee and sugar holders along the counter and don't forget about your cookbooks – they didn't have the internet way back then.
image via Pinterest