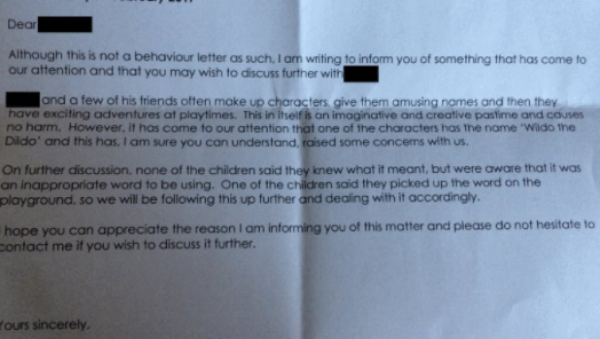 A father recently received a letter from his 10-year-old son's school, and we laughed out LOUD when we read it.
Paul Hunt posted the letter on Twitter, along with the caption: "This letter, that was sent home from school today, is the funniest thing I've ever read."
The letter, which came from a teacher in the school, opened with the following: "I am writing to inform you of something that has come to our attention".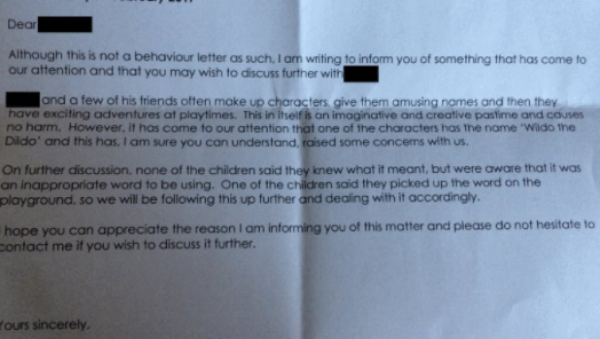 The teacher continued, explaining that many of the students create characters and give them exciting names and adventures.
Here lay the issue, as Paul's son named his special imaginary friend Wildo THE DILDO...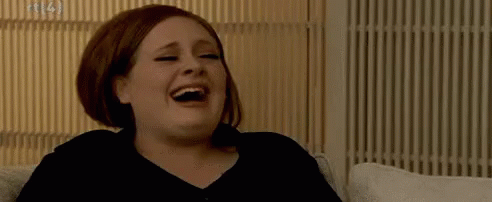 "This has, I am sure you can understand, raised some concerns with us," said the teacher.
The teacher explained to Paul that "none of the children said they knew what it meant, but were aware that it was an inappropriate word to be using."
Twitter has reacted to the letter in the same way we did, seeing the hilarious side to the whole thing.


@pahunt1978 @GreenAlty Priceless. That's the kind of letter you save for his 18 birthday party.

— Kalvin Chapman (@KalvinChapman) February 7, 2017
@pahunt1978 hope Wildo isn't a superhero, lord knows what his costume would look like... pic.twitter.com/6lriuhM0fU

— m19htyw19an (@warr10rz) February 7, 2017
Children are brilliant little things, who never cease to amaze us.