With permission from David Mamet (Glengarry Glen Ross, Hannibal), Andy Crook directs this exciting, all new version of the classic satire Speed The Plow.
This re-imagining of David Mamet's 1980s hit play turns the dynamic on its head as the genders of the protagonists are reversed. Set in Hollywood where power is everything and morals are a commodity to be bought and sold, this production will examine the hierarchy from an alternative perspective. With two females as the movie executives and a younger male, the plot is given an entirely different context.
Speed The Plow has been performed by such luminaries as William H Macy, Jeff Goldblum, Joe Mantegna, Elizabeth Moss, Lindsay Lohan and is notable for marking Madonna's stage debut.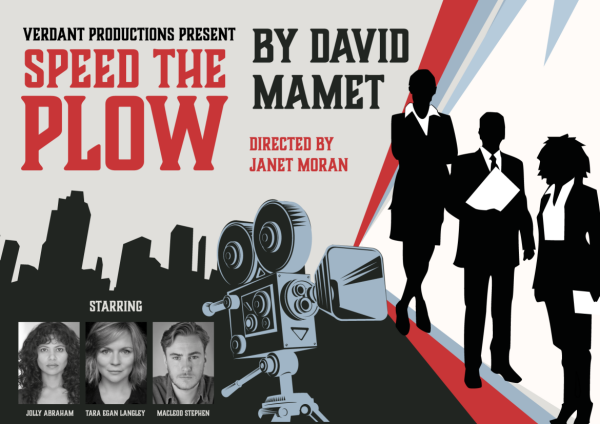 What the Critics said of previous productions of the Tony nominated play Speed The Plow
"When the curtain falls on this short and unsparing study of sharks in the shallows of the movie industry, it's as if you had stepped off a world-class roller coaster."
Ben Brantley – New York Times
"When Hollywood meets Broadway, sparks fly and Tinseltown's incinerated - especially if the flamethrower is David Mamet. So it is with "Speed-the-Plow."
Clive Barnes – New York Post
"Mamet's scintillating dialogue and black humour render it just about timeless…"
Jason Blake – Sydney Morning Herald
Cast
Jolly Abraham – An Octoroon (Abbey Theatre) On TV - Elementary, Law & Order SVU,
Tara Egan Langley – Chekov's First Play (Dead Centre) On TV - Harry Wild, The Fall
Macleod Stephen – Staging the Treaty (National Concert Hall)
Venues
Civic Theatre, Tallaght 6th – 8th April
Pavilion Theatre, Dún Laoghaire 13th – 15th April
Ramor Theatre, Cavan 26th April
Droichead Arts Centre 27th April
This production is supported by The Arts Council.