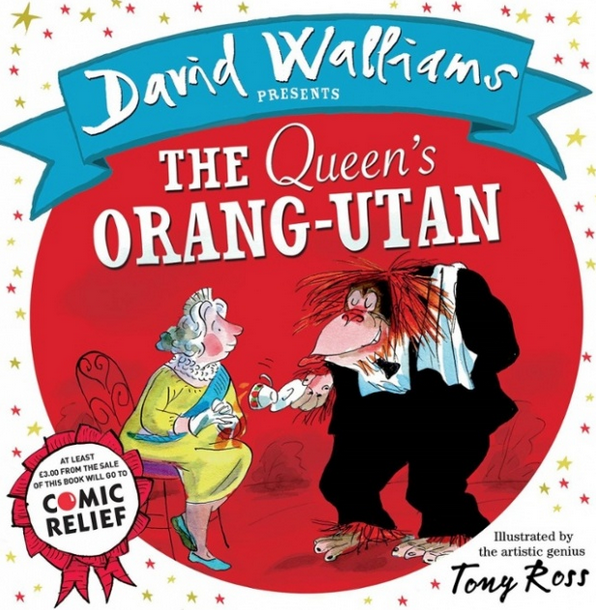 Ever wondered what to get someone who has absolutely everything?Well, why not get them an Orang-Utan.
Living in the Palace can be a little boring for the Queen so when her birthday comes up, rather than wanting "a solid gold, diamond-encrusted stairlift?" the Queen, who is feeling a little trapped, would much prefer something that was going to turn her boring life into something a little more exciting. But is she really prepared for all the mayhem a giant ape is bound to bring to the palace? Or does she have a plan that no one else knows about?
Comedian David Walliams has teamed up with Tony Ross to create a spectacularly funny story for children of 3 and up. And what's more – it's in aid of comic Relief 2015.
The Queen's Orang-Utan is a right royal mash-up of mischief and mayhem. A wickedly funny line-up of characters are brought energetically to life with illustrations by Tony Ross. Tony has worked with Avid on five of his best selling novels, his two previous picture book collaborations with David, The Slightly Annoying Elephant and The First Hippo on the Moon, both skyrocketed to number one in the picture book chart in their first week of publication.
The Queen's Orang-Utan will be published in paperback for £4.99 with at least £3 from each copy sold going straight to Comic Relief. A brilliant audio version has also been created by David along with Miranda Hart and Rob Brydon – a starry collaboration which combines to create a highly comic rendition of the tale. Money raised from the book will help vulnerable and disadvantaged people in the UK and Africa to turn their lives around.
David is an honorary trustee of Comic Relief a charity for which he has raised millions – most notably swimming the English Channel in 2006 and the River Thames in 2011.