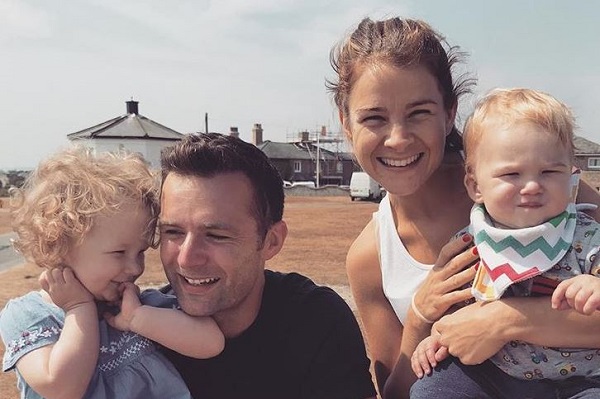 Harry Judd is about to embark on a lengthy tour of his show Rip It Up. The dad-of-two will be joined by fellow Strictly Come Dancing contestants Aston Merrygold and Louis Smith.
The trio will dance across the nation to music from the 1960s. Fans cannot wait to see the former McFly member show off his moves on stage, but there are three very special people who are feeling pretty glum about the tour.
Harry's wife and author Izzy Judd posted the most moving goodbye snap on her Instagram this morning. The doting mum shared the intimate photo of Harry kissing their kid, -three-year-old Lola and one-year-old Kit, goodbye on the street.
She captioned the snap: "How about you stay here with us and don't go on tour daddy, then you might stop kissing us goodbye."
The mum-of-two lightened the moment by commenting on Harry's questionable fashion choices: "So proud of those dancing feet, but socks and sandals."
The former Strictly Come Dancing winner will be away from his family for quite some time. The Rip It Up tour kicked off last night on September 12 and runs until October 31.
There's no doubt the dad will miss Lola and Kit like crazy.
Harry posted a photo from his dressing room ahead of opening night. The dad looked pretty glum in the pre-show snap.
"Sat in the dressing room, 2 hours until opening night. Brain fried, body aching. Looking forward to the audience arriving to give me energy!" he wrote.

Rip It Up the 60s will tour all across the United Kingdom. Harry, Louis and Aston will perform to the music of The Beatles, The Rolling Stones, The Who, the Bee Gees, The Beach Boys, Simon & Garfunkel, Aretha Franklin, Otis Redding and Stevie Wonder.