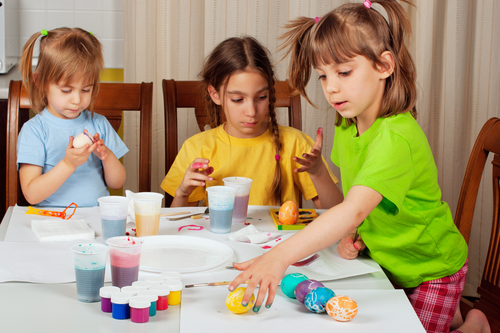 Easter holidays can be long and keeping kids entertained can be tough. However, if you plan one thing every day, the time off will be more about spending time together rather than a bored child.
Why not spend one day making Easter crafts with your child or invite some of their friends over, set it up for them and let them get on with it.
Bunny ears
You will need two long pipe cleaners and a hard hair band.
These bunny ears are really easy to make and there's no need for scissors or glue. Get one pipe cleaner and twist it into a hair band shape. Using the remaining pipe cleaners, twist into two bunny ears and attach to the hair band wrapping the ends of the pipe cleaners around it.
Egg shell designs
You will need three eggs, one sharp knife (parents only), various coloured paints and paintbrushes.
Mums, pierce a tiny hole in the top of the egg with the knife and a larger hole at the bottom. Be careful not the crack the egg. Get your child to blow into the small hole so the inside of the egg come out the bigger hole. Rinse the egg shell with water. Place into an egg cup and let your kids go wild painting and decorating them.
Carrots clips
You will need four wooden pegs, white paint, paint brush, orange and green felt (you can use paper if you want) and glue.
Paint the pegs white and cut the orange felt into carrot shapes and the green into the stalk. When the paint is dry, get your child to glue the carrot and stalk onto the peg.
Easter basket
You will need one or two baskets, depending on the number of children, various ribbons, coloured tissue paper, cotton wool, buttons, glitter and PVC glue.
This is really easy and you can use any materials you have lying around in your house. Simply twist the ribbon around the handle and tie any extra around the body of the basket. Decorate with buttons, and glue the cotton wool onto the ribbon. Stuff the inside with the coloured tissue and sprinkle glitter to finish. Fill with chocolate eggs.