For most of us, the daily toil and trouble of family life is enough to keep us racing to keep up with an endless list of to-dos that we will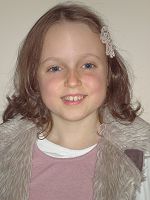 likely never get to. Life can become overwhelming and full of reasons to be stressed and unhappy, and it takes something quite incredible to make us stop. And this story is that something quite incredible that will help you remember what is important.
Emma McCarron is from Monaghan where she lives with her family – mum Linda, dad Francis, sister Ally (aged 7) and brother and Ethan (aged 5). She is in fifth class at Gaelscoil Ultain primary school in Monaghan town.
In November 2008 Emma was diagnosed with Neuroblastoma – a rare children's cancer, and since then, she has been attending Our Lady's Children's Hospital, Crumlin. Emma has undergone grueling treatment program, which any adult would wince at - including chemotherapy, surgery, bone marrow transplant and radiotherapy. And yet this child is a bright girl, with enthusiasm and excitement. A wonderfully confident girl who was well able to hold a radio interview on RTE's John Murray Show this week.
As her mum and dad talked on the show, I could hear the pride in their voice (as every parent has) for all their children, but I could also hear a simple joy that they have in their family life, in spite of the cruel hand their 10 year old was dealt. Emma's dad Francis remarked how lucky they were to have a car to be able to get to the hospital when they needed to, and to have the support of close friends and family who helped out whenever they needed it, including minding Ally and Ethan while Emma had treatment in hospital stating "not everybody has a car or the support of friends and family to help out."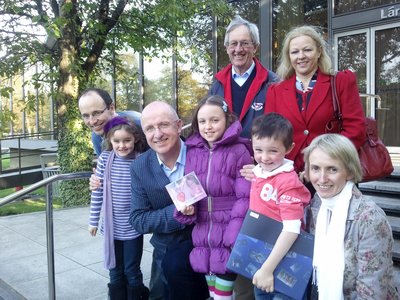 It would really make you wonder how this man could think of others during this time, but it quickly become obvious that this is just how this family works. And true to form, this is what Emma is doing too. In the last year, Emma became interested in singing and she began to attend singing classes with Monaghan Comhaltas Branch, and joined the Monaghan Community Gospel Choir. On learning that some of her relatives wrote songs, played the guitar & sang, she came up with the idea of recording a CD together. Over the summer Emma's great-uncle (Brendan Gallagher) set the wheels in motion, made all the arrangements and the CD was recorded in early August. And to complete what was very much a family endeavour, Emma's younger sister and brother Ally and Ethan have supplied the artwork for the CD.
'A Lighter Heart' is a wonderful traditional Irish music CD that is on sale for just €5 (+ postage) to raise money for Our Lady's Children's Hospital Crumlin, which is one of the leading hospitals in Europe for the treatment of childhood cancer. It is, as her site notes "dedicated to all children who struggle with illness, their families and the medical staff who care for them. May they all have a lighter heart".
I've ordered my copy, have you?
- - -
Submitted by a MummyPages mum
To order a copy of Emma's CD or to find out more about her, visit emmamccarron.ie
Download an mp3 of Emma's appearance on the John Murray show here