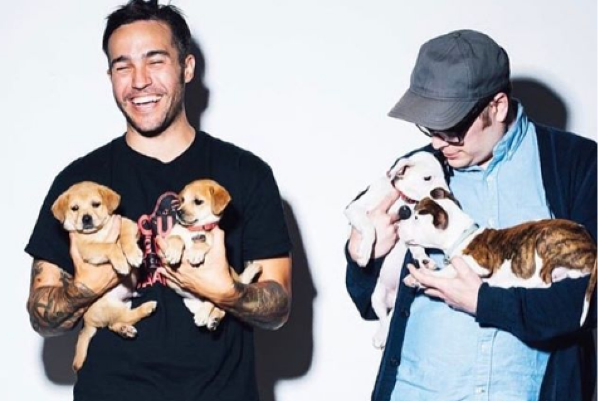 Fall Out Boy's Pete Wentz and partner Meagan Camper have welcomed a daughter.
The couple shared their happy news last night on Instagram.
In the post, the little girl's name was revealed and we love it!
The picture caption read:
"So excited to introduce Marvel Jane Wentz. Feeling so grateful that she's here… annnnd she's already ready to takeover the world, happy Mother's Day @meagancamper and all the moms out there. We [heart] you," he posted.
The 38-year-old is already dad to 9-year-old son Bronx Mowgli who he shares with Ashlee Simpson. Baby Marvel is Wentz's second child with model Meagan Camper.
In August 2014, their son Saint Laszlo was born and speaking to People Magazine, it looks like the family are already thrilled with their new addition.
"We are so happy to welcome Marvel Jane Wentz into the world," he said.
"Her brothers are both very excited about their brand new kid sister."
The couple has been dating since 2011 and announced the 29-year-old was expecting their first daughter on New Year's Day.
"We have a lot of testosterone in our house," Wentz said to People.
"I see my friends who have daughters, and it seems like a whole different kind of love that they have for each other, so I look forward to that being a completely new journey," he said in the January interview.
"Hopefully it'll bring some balance to our home!"
In the wake of their baby news, Fall Out Boy released their seventh LP, Mania, at the start of the year. The group are due to start a Mania Tour at the end of August.
Life on the road can be tough and the singer said to People, that it makes him "appreciate" life at home and being "present" when he is.
Home is in L.A. and supposedly his kids do not perceive him as a famous rocker, but rather "the guy that makes pancakes or runs around in the backyard with them, which is grounding in the best possible way," he said.
Wentz and Camper, almost seven years on, are content with their family life but haven't ruled out marriage in their future.
"It would be nice to celebrate something with our friends and our family," Wentz said, "but the relationship and commitment and responsibility we have to each other and to our kids is so much bigger [than a wedding] — it's a lifetime thing. So I think there's not a rush."
"I have a cool partner, I have a cool job, and I feel very lucky," Wentz added.