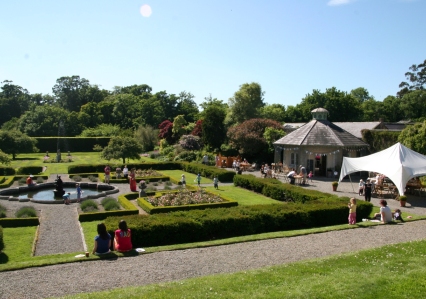 If you are looking for something to do this Sunday, July 3rd then why not visit Killruddery House and Gardens. They are holding The Enchanted Garden as part of the Killruddery Arts event. This is a unique opportunity for families to enjoy performance arts in beautiful surroundings.
This is the 4th year of The Enchanted Garden and this year kids are encouraged to take part in creative play with performance workshops and lots of interactive activities.
Children can enjoy butterfly and poppy making, storytelling, dance, and music making. This is the ideal way to entertain the kids on a lovely summer's day.
Tickets are €30 for a family (2 adults, and 3 children). For individual kids it's €10 per child and €6 per accompanying adult while little people (2 and under) go free. Concession tickets for €5 are available to qualifying adults (students, over 65's etc.)
Here is The Enchanted Garden Programme:
Butterfly wing making and dance workshop with Monika Bieniek – 11am and 2pm
The Butterfly workshop is a wonderful opportunity for kids to develop their creative skills. Children and parents are invited to make their own simple butterfly wings with the help of a model maker artist. Then children will learn how to move and dance like a butterfly using the wings they made earlier. They will have the unique chance to dance together with two beautiful Butterflies from the show "Escape from the Dead Zoo" presented in The Fringe Festival 2010. Located at The Mushroom Tent (in case of bad weather: Crystal Palace).
Sound Circle with Nico Brown – 11.30am and 2.30pm
An opportunity for people of any age to play music with Nico Brown, formerly musician-in-residence at The Ark. Located at The Fairy's Theatre (in case of bad weather: The Mushroom Tent).
Theatre Lovett - 12noon and 3pm
Louis Lovett brings to our shores the renowned European chat show host Pietr Kloon. Located at The Crystal Palace.
Enchantall – 12.30pm and 3.30pm
Enchantall is a half hour workshop/performance where everyone can get involved. Together everyone will write, rehearse and perform a short play based around a fairytale. Located at The Fairy's Theatre (In case of bad weather-The Mushroom Tent).
Púca Puppets – 1pm and 4m
Award winning Púca Puppets bring Storybear to this year's Enchanted Garden. Storybear loves stories, and helps puppeteer Niamh Lawlor tell and draw you one, if you promise to help. It's an interactive and intimate storytelling session suitable for all ages. Located at The Mushroom Tent (in case of bad weather-crystal palace).
The Poppy Shop– 12.30-2.30pm
Join artist Sinead Mc Geeney in an interactive art installation around the garden. Starting with a poppy making workshop, families will then follow Sinead to a chosen spot and plant their poppies together.. Located at The Poppy Shop Walled Garden Workshop.