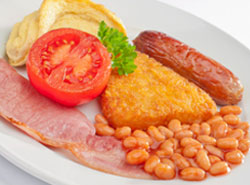 Having just completed a rather successful shopping excursion to buy some badly-needed children's storage furniture, the whole family descended on the IKEA restaurant. It was still quite early on a Sunday morning and lots of shoppers were gravitating towards the welcoming, open spaced restaurant. Breakfast is popular concept with IKEA shoppers, while the store doesn't open its doors until 10 am, the restaurant cleverly opens at half nine so you can have the kids fed before you embark on your shopping adventure!
The first thing that struck us was the unbelievable value that can be found in the IKEA restaurant. A family of four can enjoy breakfast for under €15 which was so surprising to us we actually asked a (very helpful) member of staff was this really the case! Kids can choose 3 items for their breakfast a at a cost of only €1.25, while an adult's breakfast consisting of 6 items will only set you back €2.50.
As we had (foolishly) had breakfast earlier before we made the trip, we settled on 2 prawn and egg open sandwiches, for €3.00 each while the kids opted for the kids chicken strips meal, a bargain at only €1.69 each. We grabbed two teas and two orange juices (€1.25 each) bringing our grand total to €14.00. We plonked ourselves down at a table in the spotless restaurant and I have to say the food was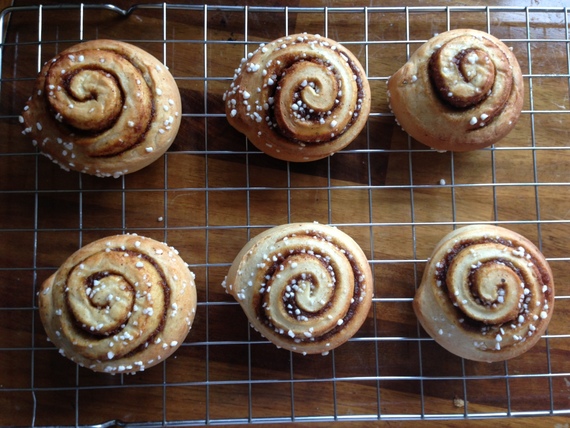 delicious. It tasted fresh and full of flavour and it passed the ultimate test, the kids plates were cleared within minutes.
On our way out, we picked up a pack of ready to bake traditional Swedish cinnamon buns which we popped in the oven that evening. The pack of six cinnamon buns was priced at only €2.75 and the smell of cinnamon that wafted through the house meant they were worth every penny. They were utterly delicious and so handy to have in the freezer in case any unexpected visitors should pop in unannounced or if you just fancy treating yourself.
I can't recommend the IKEA restaurant highly enough so if you are planning a trip to the furniture store soon then make sure you pop in, it's great value and pretty great tasting too.