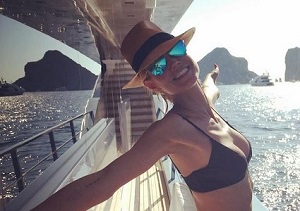 She is not the first woman (nor will she be the last, sadly) that has found herself at the receiving end of his blatant misogyny, but we're hoping that this famous mum's response to Donald Trump's latest insult will put him back in his box for a while.
Trump has been taking aim at just about everyone – unapologetically – during the presidential debates so far, and it was model and mum-of-four Heidi Klum who served as his latest target.
The former star of The Apprentice was addressing his treatment of presenter Megyn Kelly during an interview with The New York Times this week, when he admitted that 'sometimes he goes a little bit far' in his verbal attacks.
Sadly however, it seems that the 69-year-old was unable to make it through the interview without hurling vitriol, and he proceeded to tell the interviewer: "Heidi Klum. Sadly, she's no longer a 10."
While many would respond angrily to Trump's comment, the supermodel took to social media to make fun of the incident and send a powerful message back.
Check out the video below. What do you make of her response?