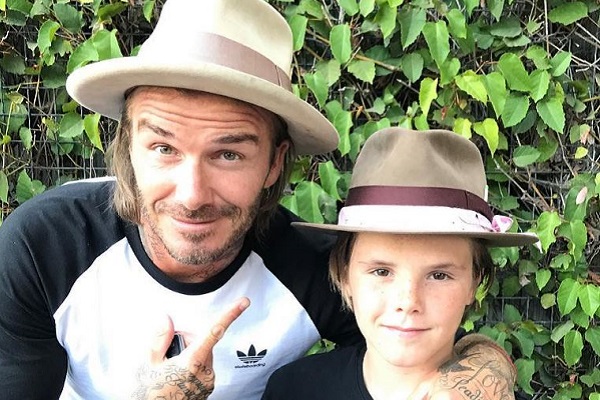 His mum was in one of the biggest girl bands of all time and his dad is one of the most famous footballers ever, so it comes as no surprise that all eyes are on Cruz Beckham, the youngest son of the Beckham clan.
The 12-year-old was hit with a wave of backlash earlier this week when he posted a controversial video where he can be seen lifting weights.
Cruz posted a video of him working out at the gym on his Instagram account, captioned, "No gains with @chasenfitness @brooklynbeckham and @danieldarri55."
Fans were quick to comment on the video, many expressed their worries and believed Cruz was too young to be at the gym.
One user said, "Unless you are at least fifteen, with a qualified Personal Trainer, this is not a thing to do, as your body is still growing. In fact, I would say it is not healthy and could cause injury."
Another expressed their concerns, "You're too young to do that thing. Just enjoy life as a kid."
One user commented, "You're too young for training, it will restrain your height, you will not be that tall if you keep training."
Many people posted disapproving comments on the video, however, others who paid closer attention to the video, told them they had nothing to worry about.
Numerous people spotted that the video is in fact fake. Cruz is not lifting the weights by himself. In the reflection of the gym mirror, you can see two people standing on either side of him, helping him lift the weights up.
One person pointed out the truth, "There are people holding the weight at each side."
Another responded, "So many comments think it's real, but you can see men helping from each side in the mirror."
It is important for young people to exercise, especially as the number of obese children continues to rise worldwide. Recent research revealed that the rate of obese children in the world has soared dramatically in the past 40 years.
The study found that a shocking 124 million children were categorised as obese.
The team found that in 2016, 74 million boys and 50 million girls were obese across the globe.
Experts have asked parents to encourage their children to exercise more. However, youngsters should stay away from lifting heavy weights like Cruz, taking part in dance classes or football training will be safer and a lot more fun.