When we were growing up Halloween costumes were made from black plastic bags and cardboard... and we lumped the shoddy DIY job because if we didn't we'd end up staying in and handing out sweets.
But these days kids are walking around in state of the art outfits, and not all of them are store bought.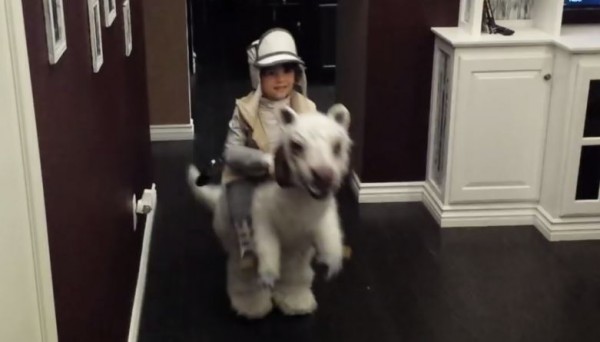 Thanks to the likes of Pinterest and Instagram, parents want to make sure that their little one looks the best trick-or-treating for fear their DIY job will be mocked.
Obviously benefiting from the 'mummy wars' competition, kids are now walking around with AWESOME looking costumes - much like this youngster's Luke Skywalker on his tauntaun outfit.
Not only is it one of the best costumes we've ever seen but the way the youngster trots around the house is just way too cute!
SHARE if you're feeling inspired.