This week, Tesco Ireland is calling on locals to join festive fun in-store nationwide to help raise vital funds for sick children this Christmas tomorrow Friday and Saturday, to join Tesco colleagues for a series of 'Festive Fun Days' in aid of charity partner, Temple Street Children's University Hospital. Seasonal cheer is set to top the shopping list as customers are treated to a selection of festive fun including Christmassy cake sale, fun face painters, and limited edition festive floral bouquets, all in aid of raising much needed funds for sick children this Christmas.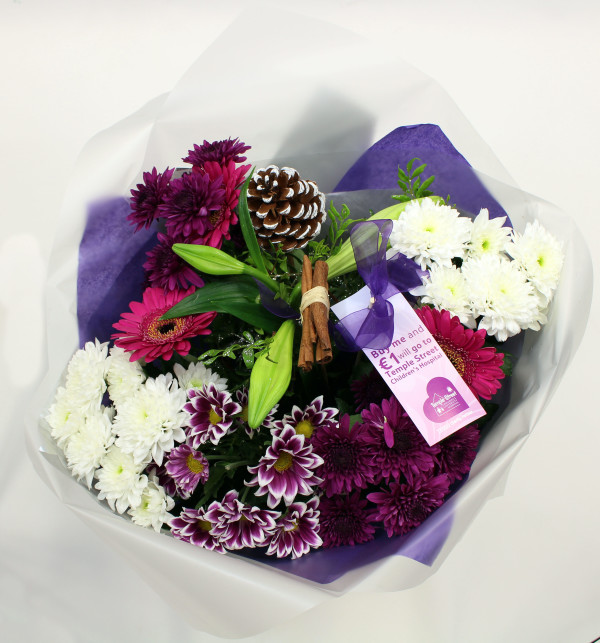 Hosted by Tesco colleagues across Ireland, this year's series of 'Festive Fun Days' aim to raise €150,000 for the little heroes of Temple Street, with all of the vital funds raised going towards purchasing an advanced Retinal Camera for the Theatre ward, needed for Temple Street to ensure that each child receives the best care possible. Using this new equipment, an Ophthalmologist can ensure timely intervention, which can prevent loss of sight and in the case of Retinal cancer can cure many cases.
You can give your host the perfect gift this festive season with Tesco's Christmas themed floral bouquet in aid of Temple Street. The beautiful bouquet is an ideal gift for your host this festive season and contains a combination of happy pink mini gerbera, with a mix of purple, pink and white chrysanthemums with some beautiful touches of frosted pinecones, decorative scented cinnamon sticks and glittered foliage. These bouquets are available in stores nationwide priced at €10.00 and a donation of €1.00 per bouquet sold will be made to Temple Street.
Each year Temple Street treats over 150,000 children from across the country and for thousands of children, Temple Street is the only hospital in Ireland in which they can be treated. Temple Street has been Tesco Ireland's charity partner since October 2014 and to-date Tesco Ireland has raised €4.7 million in aid of the little heroes of Temple Street.