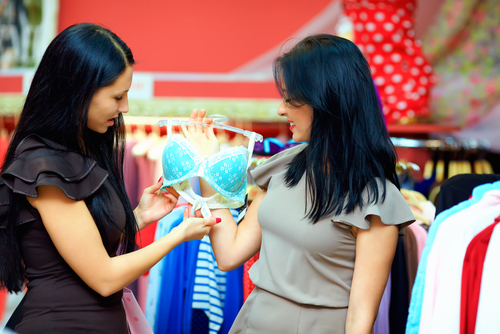 Here are few things to consider when purchasing a bra for your tween, and more importantly how to know that your daughter is ready for one.
Bringing up the topic
Some girls will want to start wearing bras almost immediately, while others will want to avoid the subject completely with their parents. If your tween is too embarrassed to bring up the topic herself it can be a good idea to casually mention the subject, and then leave it to her to tell you when she's ready to wear a bra.
First stage of bra wearing
A cropped-top style bra is the perfect starter point for your tween. The cropped-top style bras are great as they give the appearance of vests but still create the support and comfort for your tween. If your daughter is still uncomfortable broaching the topic of bra shopping, you can leave the crop top in her underwear drawer and let her wear it when she's ready.
Training bra
Your daughter will eventually reach the stage where she is ready to start wearing a training bra. Training bras are designed to suit your daughter's development as well as providing comfort and support. Although they may have the same band size and cup size - the design is slightly smaller. The shoulder straps of a training bra are shorter, the cups are smaller in depth compared to adult bras, and the band will not be as deep, in order to provide comfort for your tween.
Measuring bras
There are two traditional ways to measure bras: the band or under-bust measurement and the around-bust measurement. The band or under-bust measurement will give you your daughter's bra size. The around-bust measurement will be greater than the band measurement and will convert to your daughter's cup size. It is important when your daughter is fitted for her first bra to make sure that the band is level all the way round. It's always a good idea to get your daughter professionally measured, as they will know what bras will suit your daughter and of course, what size they are.
Different Bras
It can be hard to know what to purchase your daughter initially, especially with all the different bras that are now available. The three necessary bras that your daughter should need for now are the: wire free bra or
training bra, sports bra and eventually when she's ready, an underwired bra.
When is she ready for an underwired bra
Girls can develop at different stages and while some tweens may ready straight away for an underwired bra, the majority of girls aren't ready for one until well into their late teens. But despite the pressure of seeing other girls wearing an underwired bra, try to make sure your daughter avoids wearing underwired bras from the outset. Your tween is still developing and while they may need support, underwires can cause some damage to the still developing breast tissue. So only allow them to start wearing underwire bras until you know they're ready, again a professional measurement will be able to determine this.